Tarrant County Judge: Tim O'Hare defeats Betsy Price
FORT WORTH, Texas - Fort Worth's longest serving mayor lost the Republican nomination for Tarrant County judge. Betsy Price was defeated by a candidate who accused her of being a liberal.
Tim O'Hare had a clear lead over Price after early voting results were released. And once technical issues were resolved, he won by a wide margin.
Price, the former mayor of Fort Worth, got early endorsements for the job after current Tarrant County Judge Glen Whitley announced his retirement.
But O'Hare, the former mayor of Farmers Branch, got the endorsement of former President Donald Trump and that apparently mattered most to Republican voters.
Late Tuesday night, Judge Whitley announced that any more election results would not be announced until the early morning, citing computer problems that caused a delay in counting up all of the ballots cast on election day.
Those problems were resolved in the overnight hours. O'Hare defeated Price with 57% of the vote. Price collected just 34%, followed by other candidates.
As Farmers Branch mayor, he championed a controversial ordinance that essentially banned illegal immigrants from renting apartments. The courts threw out the ordinance as unconstitutional.
"I think the message is loud and clear. It's that Tarrant County Republicans want a conservative candidate. Clearly, they thought I was the conservative candidate," O'Hare said.
On Tuesday night, he talked about the message he tried to get across to Republican voters.
"They want somebody who is going to stand up for America, who is going to stand up against cancel culture, who is going to stand up for families, who is going to stand up for faith, who is going to stand up for a capitalist way of life," he said.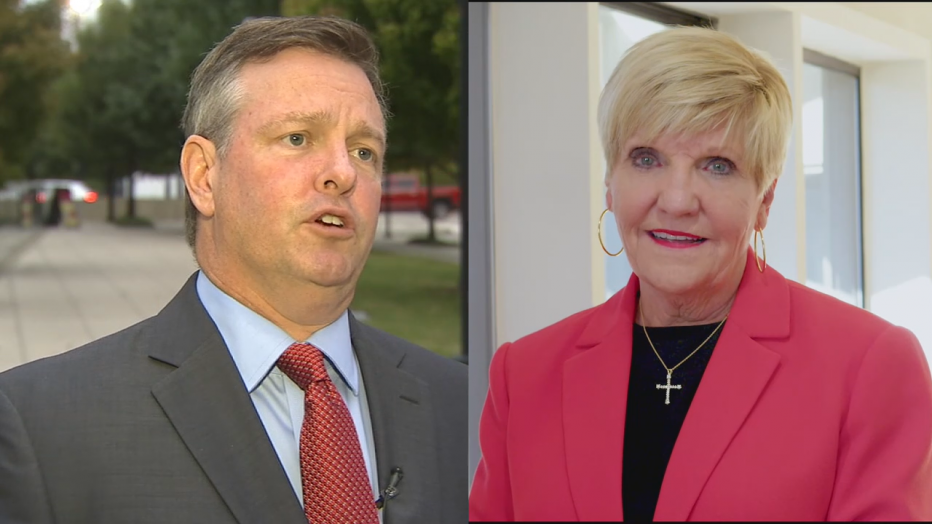 Current Fort Worth Mayor Mattie Parker, Judge Whitley and many of Price's longtime supporters joined her Tuesday night.
She had been considered the favorite to win the GOP nomination. She was Fort Worth's longest serving mayor, holding the position for 10 years. Before that, she served as Tarrant County Tax Assessor and was endorsed by Judge Whitley, as well as current Mayor Parker.
During her time as mayor, Price's administration made several trips to Washington to work with the Trump Administration. But in this race, he endorsed O'Hare.
MORE: The Trump factor to play heavily in midterm elections, political experts say
The two sparred in political ads, with O'Hare attacking Price as a liberal supporter of Black Lives Matter and critical race theory. Price claimed her opponent was lying about her record.
On the Democratic side, former Democratic Party chair Deborah Peoples collected 83% of the vote, far more than former Arlington City Council member Marvin Sutton.
In November, it'll be Peoples against O'Hare in the race for Tarrant County judge.