Police shoot autistic man's caretaker as he lies in street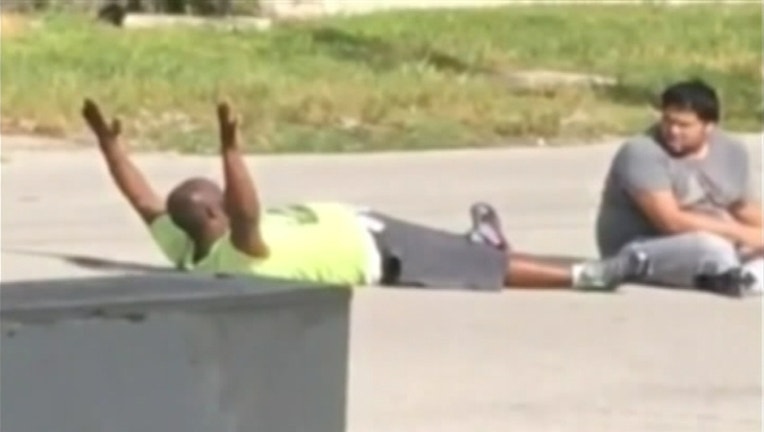 article
MIAMI (AP) — A Florida police officer shot and wounded an autistic man's black caretaker, authorities said, in an incident purportedly captured on cellphone video that shows the caretaker lying down with his arms raised before being shot.
North Miami Assistant Police Chief Neal Cuevas told The Miami Herald (http://goo.gl/rhHVyt) that officers responded to the scene Monday following reports of a man threatening to shoot himself. Officers arrived to find 47-year-old Charles Kinsey, a therapist who works with people with disabilities, according to WSVN-TV (http://bit.ly/2ac7zm1), trying to get his 27-year-old patient back to a facility from where he had wandered.
Cuevas says police ordered Kinsey and the patient, who was sitting in the street playing with a toy truck, to lie on the ground. The video shows Kinsey lying down and putting his hands up while trying to get his patient to comply.
An officer then fired three times, striking Kinsey in the leg, Cuevas said. No weapon was found.
The latest shooting comes amid weeks of violence involving police. Three law enforcement officers were fatally shot and three others wounded Sunday in Baton Rouge, Louisiana, by a shooter whom police also gunned down. Two weeks earlier, two white officers in Baton Rouge killed a black man, Alton Sterling, 37, on July 5 during a scuffle at a convenience store. That shooting, captured on cellphone video, provoked widespread protests about police treatment of the black community.
On July 6, another black man, 32-year-old Philando Castile, was killed in Minnesota when a police officer pulled him over. The next day, a sniper killed five Dallas police officers as they guarded a peaceful protest.
In Florida, Kinsey's attorney, Hilton Napoleon, provided a cellphone video to the Herald on Wednesday taken moments before the shooting. It shows Kinsey lying in the middle of the street with his hands up, asking the officers not to shoot him, while the autistic man sits next to him, yelling at him to "shut up."
"Sir, there's no need for firearms," Kinsey said he told police before he was shot, according to WSVN. "It was so surprising. It was like a mosquito bite."
Kinsey is black. Police haven't released the name or race of the officer who shot him but said he's been placed on administrative leave, which is standard.
The investigation has been turned over to the Miami-Dade State Attorney's Office, Cuevas said.
In an interview with the TV station, Kinsey said he was more worried about his patient than himself during the incident.
"As long as I've got my hands up, they're not going to shoot me. This is what I'm thinking. They're not going to shoot me," he said. "Wow, was I wrong."