Police investigating fatal shooting of 19-year-old SMU student in Downtown Dallas
DALLAS - Early Saturday morning, police said a 19-year-old SMU student was shot and killed in Downtown Dallas. 
The fatal shooting happened at about 3 a.m.
This is the city's 198th homicide of the year.
Officers found the victim, identified as Robert Urrea, in the roadway at the intersection of Harwood and Jackson streets. Urrea, who was a student at SMU, was pronounced dead at the scene.
Police said he was walking down the street when a vehicle pulled up. The vehicle is believed to be a white 4-door, possibly a Ford, with a sunroof and custom wheels.
"We have so much information on this one, we are asking the perpetrators to turn themselves in," said Dallas PD Maj. Danny Williams.
Investigators said multiple surveillance cameras downtown caught the interaction between Urrea and the suspects, images police are reviewing closely, but have not yet released. 
Police believe Urrea was leaving a Halloween party or a bar. 
"Detectives were able to locate surveillance video of the vehicle and suspects interacting with the complainant, and once the vehicle leaves, the complainant falls to the ground apparently suffering from a gunshot wound," Williams said.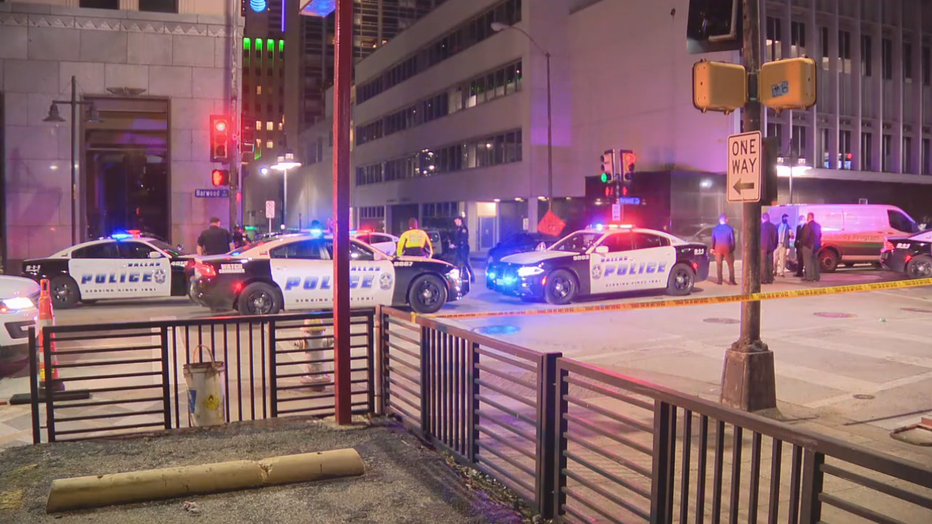 SMU acknowledged the police investigation, but declined further comment for now.
There is no suspect description, only video of the car the suspects left in.  No arrests have been made.
With 198 homicides in Dallas this year, the city is on pace to have back-to-back record years for violence. 
DPD officials said they know there is a crime problem, and they have made adjustments to try and reduce violent crimes like this from happening 
"What we are doing is putting more resources on the problem to gain more intelligence to put more people in jail when they commit heinous crime like the one this morning," Williams added.
For Saturday night, Dallas police said there was an already planned increase police presence downtown because it's Halloween. 
Anyone with information is asked to call Dallas PD Det. P. Belew at 214-422-9275 or email patty.belew@dallascityhall.com.