Police enforcing curfew around Downtown Dallas to crack down on crime, street racing
DALLAS - Dallas police are enforcing a curfew in and around downtown in an effort to crack down on crime and street racing.
Over the next three weeks, from midnight Friday until 6 a.m. Saturday, and from 11 p.m. Saturday until 6 a.m. Sunday, juveniles are not allowed in Deep Ellum, the West End, Farmers Market, Uptown Dallas, Victory Park, and the Central Business District.
Violators will be detained and turned over to their families or taken to a juvenile correction facility.
The city is also closing what it calls street racing hotspots.
Police will be patrolling those areas and violators will be ticketed or arrested.
A push to stop street racing means increased police presence on the streets of Dallas
Dallas leaders launched a non-profit initiative to help get out the word. 
At a food distribution Saturday afternoon, they helped police pass out flyers to talk about street racing concerns.
Dallas police officers are handing out flyers and letting folks know about the dangers of street racing and the fines associated with taking part in the illegal activity.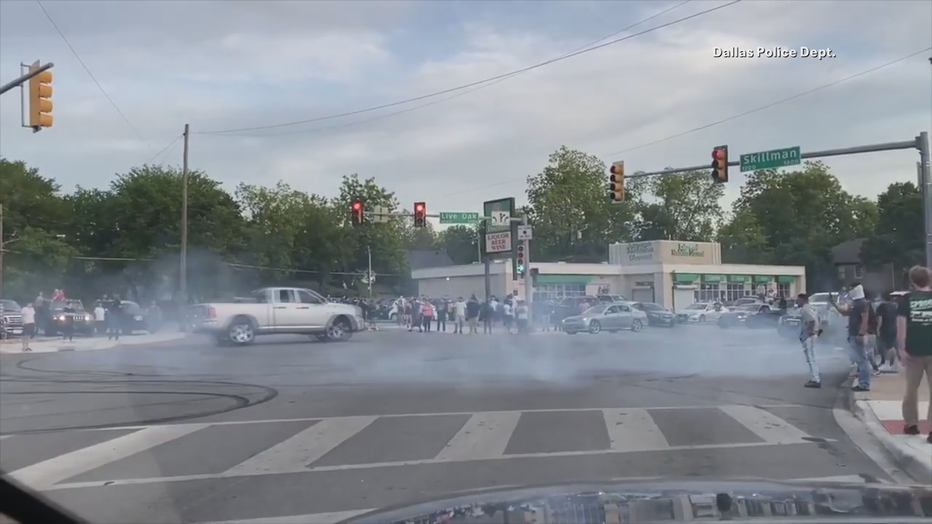 Dallas police officers used community events, like a food giveaway in West Dallas, to chat with folks about the dangers of street racing.
The ongoing problem prompted DPD to conduct a special initiative this weekend.
"They have about 12,13, 14 locations a night, so they move from one location, spend a few minutes there, do their damage, and then they move to another location," explained George Aranda, president of the National Latino Law Enforcement Organization.
Like Sylvia Rodriguez's West Dallas neighborhood, located off busy Ledbetter Drive. It's another problem spot.
"They're ruining our streets. They don't let the traffic go by, people are struck there a lot of the time," she said.
"We're coming together to stand in unison to say we declare this area a peace zone that's safe for our kids," said Antong Lucky, who is the national engagement director for Urban Specialists.
In the southern sector of Dallas, Councilman Tennell Atkins joined community activists for the launch of a partnership to reduce crime the area.
Councilman Atkins said he supports the curfew for juveniles.
"We need a teen curfew because we need to know where are kids are," he said.
Back in May, Dallas City Council passed an updated street racing ordinance.
It allows Dallas police to issue citations to spectators with fines up to $500.
Participants can face up to 180 days in jail and/or a $2,000 fine.
"It's a long time coming, hopefully we can shut this down and have peace in our city again. Have the community be able to drive at night and not be blocked in," Aranda said. "These individuals consider this a sport, so without the spectators, there is no sport."
"This is going on all over the Metroplex, but If everybody pulls together, we can do something about it," Rodriguez added.
Many Dallas City Council members are in favor of cutting DPD's overtime budget by millions of dollars.
The Dallas Police Association president said a lot of that money goes towards things like street racing enforcement.