Plano deaf defensive lineman signs letter of intent to play college football
PLANO, Texas - In front of a Plano Senior High audience for one last time Andrew Suarez signed his national letter of intent to play college football at Division III Gallaudet, a university for deaf and hard of hearing students.
"I don't think that I've coached a kid with as much desire and want-to as Andrew. He never complained, he never made excuses, he came to work every single day and he gave his best," said Kevin May, Plano's assistant football coach.
As his interpreters signed what was being said about him Suarez soaked in his signing day moment. 
[REPORTER: "What did it feel like to sign that piece of paper?"]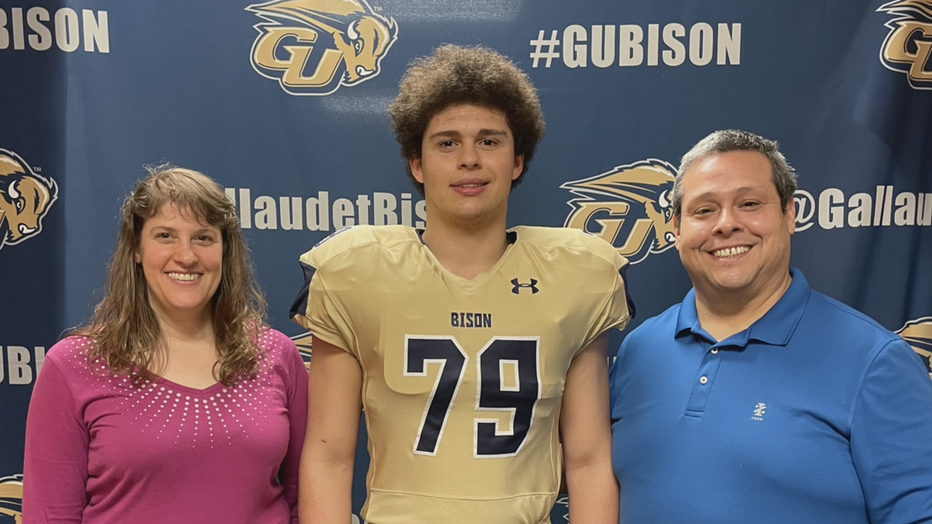 "Wow, so exciting. There was a lot of people watching me, so it felt a little overwhelming," said Suarez.
Only a select few truly saw what it took for Andrew to earn this moment as a deaf athlete.
"I wish we could have had it all on video and said watch this," said Coach May.
Andrew's dad, Kevin, had a front row seat for the whole thing.
"He wants folks to understand just because I'm deaf, doesn't mean I'm different. Just because you're deaf, doesn't mean you're different. You can succeed. And whether it's football, wrestling, whatever it is, he wanted to lead the way and show others that it can be possible," said his father.
Nobody had a better view of what Andrew could do on the defensive line than his teammate, Caset Evinck.
Evinck was learning American Sign Language and embraced it more after meeting Suarez, to communicate with him on the field.
"It was just like I have to help him out because he's part of our family. Just seeing the smile he brought knowing he could have a hearing friend and someone he could connect with, even though I didn't know that much ASL at the time, he still appreciated it," he said.
For Kevin May, Andrew's position coach at Plano, moving on without Suarez is tough.
"It's sad at the end of the year you kind of erase the senior names and you start over. The good kids, the Andrew Suarez, they're always the name that you move last," May said.
The impact Andrew made isn't going anywhere.
There are two younger deaf football players remaining at Plano that Andrew has mentored.
They are looking to continue his legacy.
"I love explaining football to them. All the different aspects of the game. Because when they came in they kind of didn't know either, so, we chat. We become friends, and I'm teaching them different aspects of the game and kind of how I improve myself," Andrew said.