Plane with supplies for Turkish earthquake survivors set to leave North Texas
GARLAND, Texas - A plane loaded with relief supplies from North Texas will depart for Turkey on Thursday.
The Turkish American Association of North Texas is one of several organizations collecting camping supplies, canned goods, and winter clothing at several locations.
RELATED: North Texans collecting supplies to send to Turkey after deadly earthquakes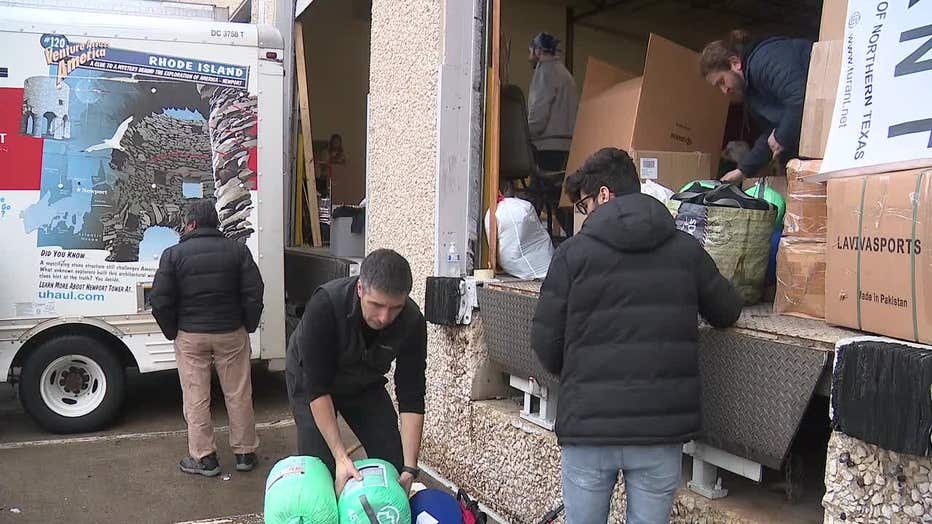 More than 19,000 people are now confirmed dead following Monday's devastating earthquake in Turkey and Syria.
The hope of finding any survivors is also fading on the fourth day of searches. The rescuers are up against the bitterly cold winter.
Turkey's president acknowledged shortcomings in the emergency response but said winter weather is making those efforts difficult.
It has also been difficult for help to arrive there because the quake destroyed the runway at a nearby airport.
Thousands of tractors and bulldozers are reportedly on their way to help clear the rubble.
RELATED: Here's a look at the world's deadliest earthquakes since 2000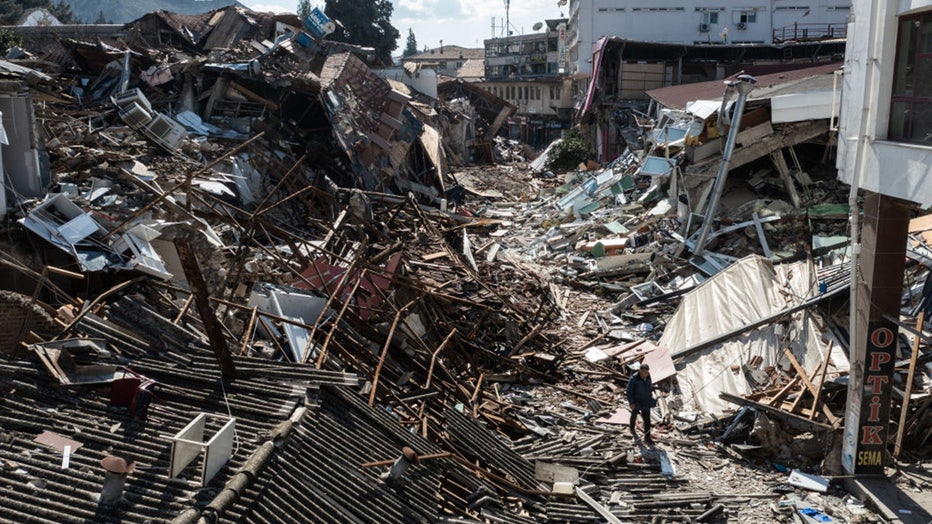 FILE - A man walks past collapsed buildings on Feb. 08, 2023, in Hatay, Turkey. (Burak Kara/Getty Images)
Many of the donation items the Turkish American Association of North Texas is collecting are to help survivors handle the freezing cold temperatures.
They need new and unused winter clothes, camping gear like tents or cots, nonperishable foods, health products like first aid kits, hygiene items like soap or feminine products, and baby diapers.
Bahadir Koseli, one of the volunteers working on collecting donations, was born in Dallas but all of his extended family lives near the epicenter in southern Turkey.
"My cousin told me when it happened at 4:15 in the morning they ran outside as fast as they could, and multiple buildings across the street, feet from them, there were 15-story buildings now flat on the ground," he. "Unfortunately, they are not able to go back into their homes, staying in tents where they can find them and really trying to stay warm in this winter weather out there."
Donated supplies can be dropped off at one of the following locations:
Garland
2525 South Shiloh Road
Opens at 9 a.m.
Carrollton 
3235 Skylane Dr.
Opens at 10 a.m.
Downtown Dallas 
3907 Elm St.
Opens at 11 a.m.
RELATED: How to help earthquake victims in Turkey and Syria
One North Texan who dropped off donations Thursday morning said she felt compelled to help.
"That is our responsibility as humans is to help each other out, especially in times of need when there are disasters or any other reason," Fatin Qutob said. "Just to see the little kids being pulled from the rubble. They got caught in something that was a force of nature they didn't expect at a time when they weren't prepared. And everybody was affected from the young and the old and the innocent. it's horrible. That's why we do what we can to help."
Turkish Airlines reached out to the Turkish American Association of North Texas to fly the care packages overseas for free. It's partnering with other Turkish American organizations to do the same.
The first flight leaves on Thursday. Another is set for next week.