Opal Lee to become second African-American with portrait in the Texas Capitol
AUSTIN, Texas - Non-stop is the best way to describe the life of Dr. Opal Lee, the grandmother of Juneteenth.
Lee was the haymaker for the now federal holiday that was signed into law by President Joe Biden in 2021.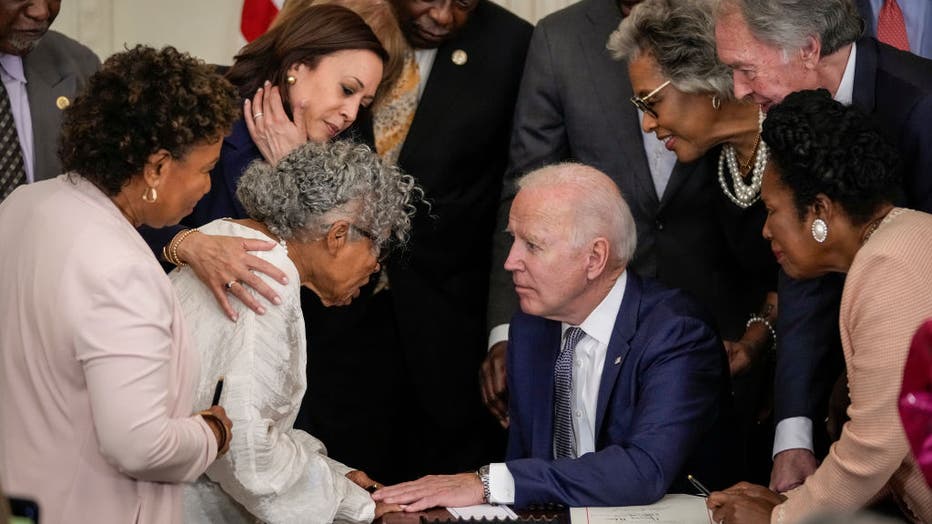 WASHINGTON, DC - JUNE 17: (L-R) Ninety-four-year-old activist and retired educator Opal Lee, known as the Grandmother of Juneteenth, speaks with U.S. President Joe Biden after he signed the Juneteenth National Independence Day Act into law in the Eas
"I can't quit now, there's so much more that has to be done," Lee said.
Evidence of that is all around her.
Ms. Opal's many accolades, honors, awards, proclamations and other mementos fill the walls and shelves at her Fort Worth home.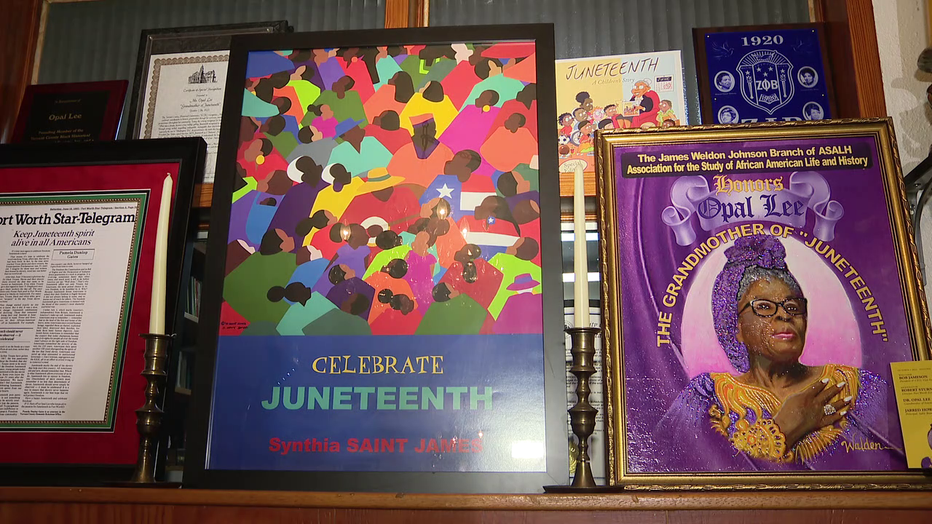 On Wednesday, perhaps the biggest showpiece of all gets installed in Austin in the state Senate chamber.
A portrait of Lee will be unveiled.
"I am humbled. I don't know how to feel. I pinch myself to be sure it's really happening, you know?" she said.
The significance is major.
Ms. Opal will become the second African-American in history to adorn the walls of the Texas State Capitol.
"When we looked at all the portraits around the state chamber we saw one African-American that was Barbara Jordan," said Lee.
Opal Lee discusses National Juneteenth Museum set to open in Fort Worth
State Senator Royce West says the progress is important.
"Absolutely, and what a fitting time to do it during African-American history month on top of that, having her picture displayed during this particular month. And yes, it's something that needed to be done," West said. "Young kids will be able to come down here and see another she-ro that happens to be an African-American with their picture in the gallery."
Lee is very excited.
"We've got a limousine and two vans and I don't know how many cars are going, so there's going to be a contingent of us from Fort Worth," she said. "My portrait next to Barbara Jordan's in the Senate, in the capitol!"
She takes it all in stride and seemingly keeps on going.
"I don't know what keeps me going, except I wake up in the morning with something that has to be done. There's always something that needs to be done, so I hop to it. Sometimes I get it done, sometimes I don't, so it's there the next day!" Lee said.
Lee's portrait will be unveiled on Wednesday at 11 a.m.