Ohio State, Oregon punch tickets to North Texas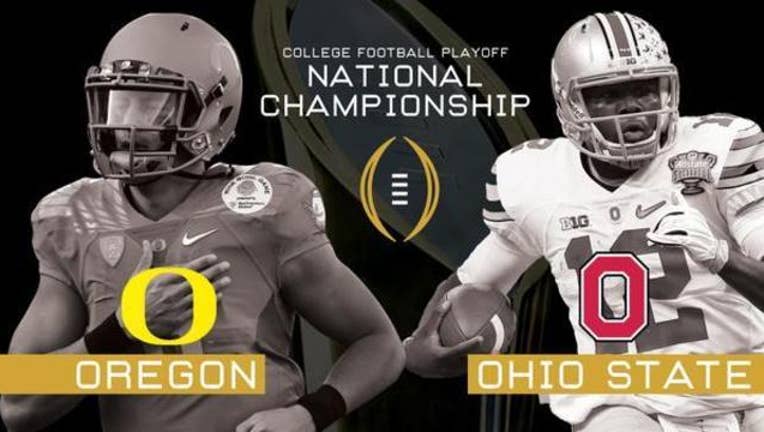 article
NEW ORLEANS (AP) - Cardale Jones came through again at the Sugar Bowl in his second career start and Ezekiel Elliott ran for 230 yards, leading Ohio State to a 42-35 upset of top-ranked Alabama in the College Football Playoff semifinal Thursday night.
The Buckeyes advanced to play Oregon in the Jan. 12 national championship game at Arlington, Texas.
Jones threw for 243 yards, including a 47-yard touchdown to Devin Smith that put the Buckeyes ahead for good early in the third quarter. He also ran for 43 yards and converted a crucial third-down play on a 1-yard dive with Ohio State (13-1) clinging to a 34-28 lead.
On the next play, Elliott took a handoff, broke one feeble attempt at a tackle, and was gone for an 85-yard touchdown that clinched the victory with 3:24 remaining.
Alabama (12-2) was denied a shot at its fourth national title in six years.

Oregon 59, Florida State 20
PASADENA, Calif. (AP) - Marcus Mariota and the Ducks are built for speed and in a flash they turned the first College Football Playoff semifinal game into a Rose Bowl rout.
The Ducks dusted Florida State 59-20 on Thursday and now it's on to Texas to try to win their first national championship.
"It's incredible. I'm so proud of these guys right here," Mariota said. "We've got one more to take care of."
The second-seeded Ducks scored six straight times they touched the ball in the second half, with five of the touchdowns covering at least 21 yards and the last four coming after Florida State turnovers.
In a span of 12:54 on the game clock, the score went from 25-20 to 59-20.
"A lot of fun," said Oregon coach Mark Helfrich of the Ducks' run, "but at the same time these guys were able to retain a tremendous focus."
Third-seeded Florida State's winning streak ended at 29. In Winston's first loss as a college starter, maybe his last game in college, he threw for 348 yards and turned the ball over twice.