Offensive Rockets tweet celebrating playoff win over Mavs gets employee fired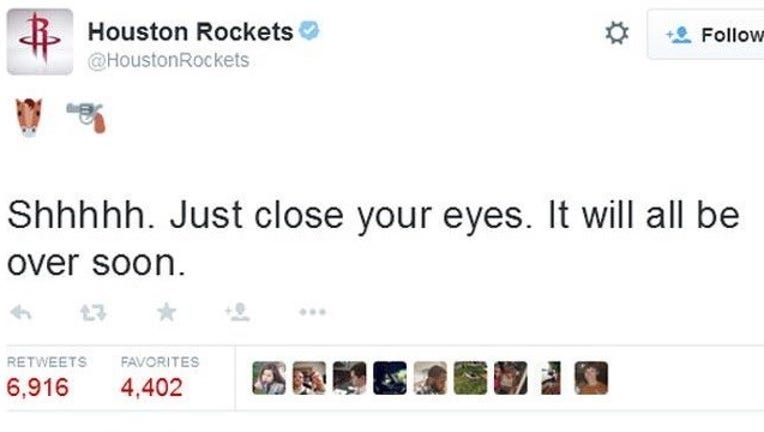 A tweet some people interpreted as a rape joke was sent by the Houston Rockets as they eliminated the Dallas Mavericks from the playoffs.
The Rockets' official Twitter account tweeted out "Shhhh. Just close your eyes. It will all be over soon" during the final seconds of Game 5 on Tuesday night. It was accompanied by an emoji of a horse and a gun.
The Mavericks' official Twitter account responded, "Not very classy but we still wish you guys the best of luck in the next round."
A half hour later, the offending tweet was deleted by the Rockets and an apology was tweeted out.
"Our Tweet earlier was in very poor taste & not indicative of the respect we have for the @dallasmavs & their fans. We sincerely apologize."
The employee who sent the tweet said Wednesday via his own Twitter account that he was no longer employed by the Rockets.
"Sometimes you can go too far. I will no longer run @HoustonRockets but am grateful to the organization that let me develop an online voice," Chad Shanks tweeted.
"I did my best to make the account the best in the NBA by pushing the envelope, but pushed too far for some and for that I apologize. I hope there's another organization out there in need of someone willing to take chances and create engaging social content. I hope."
The Rockets won 103-94 on Tuesday night, beating Dallas 4-1 in a first round playoff series. It was the Rockets first playoff series win since 2009.