Northern California blaze grows, jumps into Napa County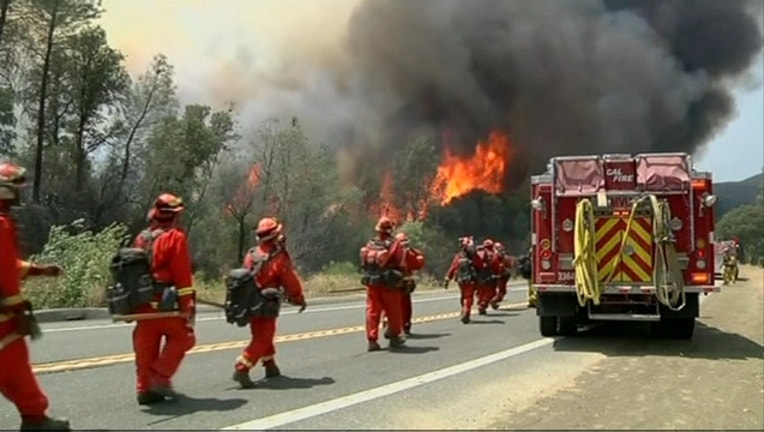 article
LOWER LAKE, Calif. (AP) — Erratic winds fanned a wildfire burning through rugged hills in Northern California on Wednesday, pushing the flames across two counties and chasing at least 150 people from their homes.
Many in the region about 100 miles north of San Francisco had only recently returned after an earlier blaze threatened their homes.
The California Department of Forestry and Fire Protection said early Wednesday that the fire expanded across 26 square miles and crews had the flames 6 percent contained, a slight uptick from Tuesday evening's figure. Full containment isn't expected until Monday.
The fire erupted in dry timber and brush Sunday several miles from the community of Lower Lake. It leapt from Lake County into wine-famous Napa County, but no vineyards are threatened.
More than 1,100 firefighters are battling the blaze that is threatening 50 structures. No homes have been destroyed, and no injuries have been reported.
Meanwhile, firefighters have nearly surrounded the larger nearby blaze that started about two weeks ago. That fire destroyed 43 homes
The causes of both fires remain under investigation.
While temperatures this past week have been relatively mild, it's the gusty winds and the dry conditions that continue to allow wildfires to grow rapidly.
In Southern California, all evacuation orders have been lifted as crews have increased containment of a small wildfire sparked by a burning motor home in rural Riverside County.
Officials say one person from the motor home suffered burns to about 3 percent of his or her body. Three firefighters were taken to hospitals with minor injuries.
State fire officials said Wednesday that the blaze about halfway between Temecula and Palm Desert has been held to 450 acres. It is 50 percent contained.
On Monday evacuation orders were issued for a handful of neighborhoods east of State Route 74, but all were called off late Tuesday morning.
Statewide, 16 active wildfires continue to burn in California, with more than 11,000 firefighters battling them.