Northeast Dallas apartment fire leaves dozens homeless
DALLAS - Dozens of people lost their homes and everything inside when a 3-alarm fire tore through a Northeast Dallas apartment complex late Tuesday night.
Many people were asleep when the fire started around 10 p.m. at the Forest Hills Apartments on Forest Lane, near Audelia Road.
When Dallas Fire-Rescue arrived, flames were already shooting out of a second floor apartment. 
Everyone was able to get out safely and there were no reported injuries, but 24 units were destroyed. 
"The smoke rushed in within seconds, I couldn't even see," Corey Matthews recalled.
Many residents at the Forest Hills Apartments were asleep when heavy smoke billowed into their homes, making it hard to breathe. 
"The smoke was really thick, it was so thick to the point where I was coughing before it even reached the full capacity of my home," Deontae Wyatt said. "It was like layered, coming from the vents, so I was already coughing."
Wyatt said a neighbor rushed door-to-door, yelling for people to get out of the building.
"He was making sure everybody was getting out of the house," Wyatt said. "If it wasn't for him yelling, a lot of people probably would've never made it out."
MORE: Dallas News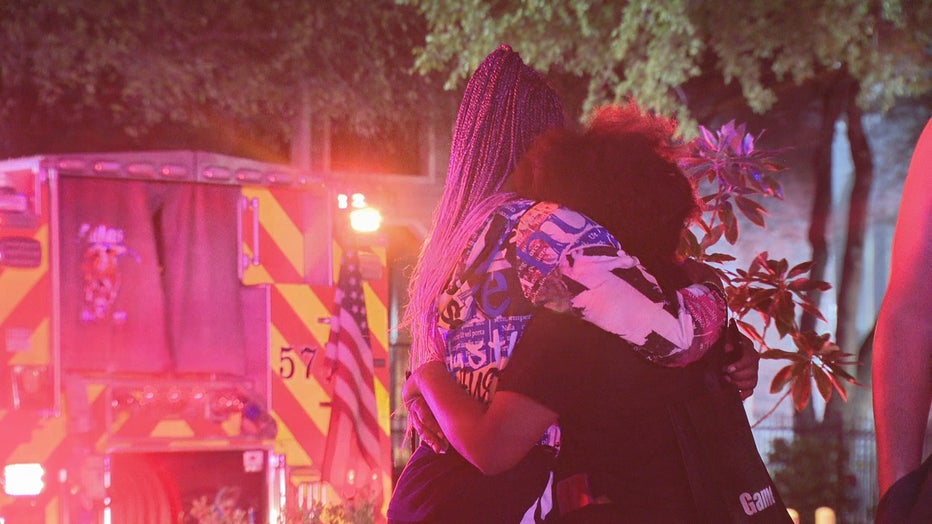 Other residents describe a chaotic scene - families rushing their children out of the burning building in the middle of the night.
"I didn't think much of it because it started so small. But then the wind blew it, it hit my unit, and then now, I'm at a loss for words," Matthews said.
Firefighters arrived to find flames on the second floor.
"We mounted up with the intention of getting inside and initiating an offensive attack, but the fire spread so quickly," said Jason Evans, with Dallas Fire-Rescue. "Before we could do anything, it had already reached into the third floor, into the attic space."
A total of 24 units were affected and are now unlivable. 
Dallas Fire-Rescue officials said they haven't determined the cause of the fire yet.
Wednesday morning, water was still rushing down from the building and residents' belongings were littered around the complex, a testament to how quickly people had to rush out with no time to grab anything.
"We didn't even have shoes," Wyatt said. "I was out here barefoot from like 9:58 p.m. to like 5 o'clock in the morning. I was out here barefoot."
The Red Cross was called in to help families affected. 
Some said they were given enough money for a couple nights in hotel rooms, but they are not sure what they'll do beyond that. 
"I lost everything, so it puts me in a sense of, where do I go next?" Wyatt said.
Dallas Fire-Rescue said if they feel like the building is in danger of collapsing, they may have city equipment tear it down. 
No determination has been made yet for this apartment complex.