North Texas celebrates Veterans Day with parades and events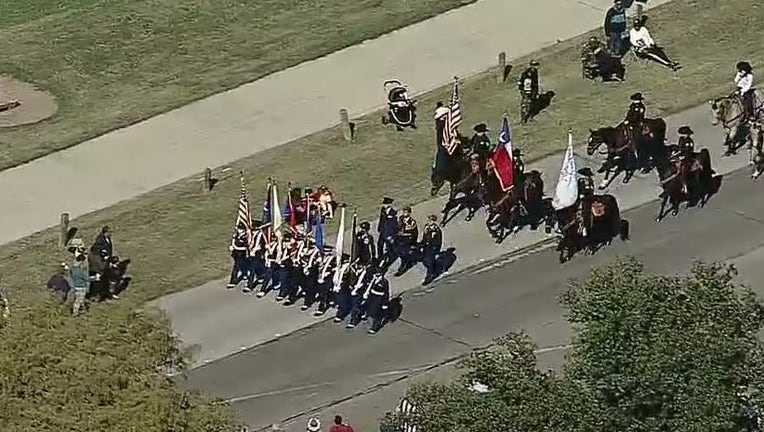 article
DALLAS - Across North Texas, several events paid tribute to those who have worn the uniform in our country.
The city of Fort Worth held its 102nd annual Veterans Day parade with mounted cavalry, an aircraft flyover and a 21-gun salute.
In Dallas, council member Carolyn King Arnold hosted a parade that started at Cedar Crest Cathedral on East Illinois Avenue. 
The DFW National Cemetery had an event featuring  the Midlothian High School choir, speakers and more.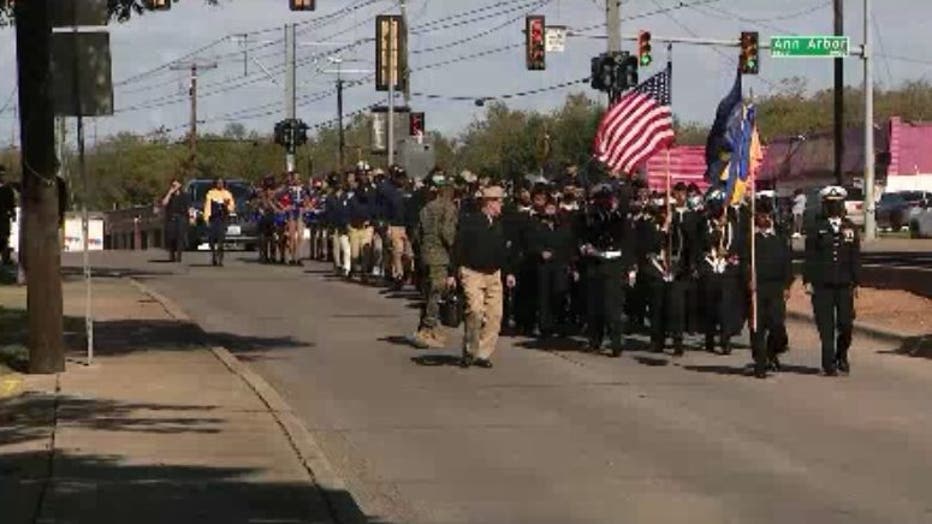 A parade honoring veterans passed through District 4 in Dallas Thursday morning.
Dallas Veterans Day Eleventh Hour Ceremony
Members of the Greater Dallas Veterans Foundation honored those who served in Iraq and Afghanistan with a ceremony at the Frontiers of Flight Museum in Dallas.
The theme this year was "Commemorating Operation Enduring Freedom," which was the military response to the 9/11 terrorism attacks 20 years ago.
There's still an effort underway to get relatives of U.S. troops out of Afghanistan more than two months after the major U.S. military withdrawal.
U.S. Army Major General Charles Aris, who lost members of his security detail in Afghanistan in 2016, said it's important that their service is recognized.
"I've been really blessed to serve and I try to explain to people only that 1% of people raise their right hand and take an oath. And I think our country's in a good place. You know, we have all kinds of political struggles but there's still men and women willing to raise their hand and understand that they are going to go serve something greater than themselves," he said.
The Greater Dallas Veterans Foundation put together a video honoring those who served in Operation Enduring Freedom. To watch it, visit greaterdallasveteransfoundation.org/2021-theme-%26-events#4e4dfa99-d865-4157-80bf-91fd7857199f. 
Bush Institute Warrior Open
Server members competed on the golf course in the Bush Institute Warrior Open. Former President George W. Bush kicked things off at the event Thursday morning.
"It's a remarkable country where millions have volunteered in the face of danger, selflessly volunteered on behalf of their fellow citizens. And so on this Veterans Day, let us remember the veterans who are with us and the veterans who are not with us and always be mindful of their service to our country," former President Bush said.
The highly-competitive golf tournament also promotes camaraderie and rehabilitation for the wounded veterans who are selected to participate.
"The biggest thing is the camaraderie, like seeing these guys that have similar experiences that I do and coming together talking about their experience and my experience and it's very therapeutic as is the game of golf," said U.S. Army Sgt. 1st Class Steve Littlefield.
"I didn't golf until after I got injured. I played college football. After I got injured, a buddy said why don't you come play golf and I said, 'I can't do it, I'm missing two legs.' Finally got out there and I can actually swing the club. It's been great, something I can do and continue to compete and do something athletic like I've done my whole life," said retired Army Capt. Tyson Quink.
For more information, visit www.bushcenter.org/about-the-center/newsroom/press-releases/2021/10/warrior-open-2021.html.
North Texas Wreaths of Honor
A local charity is working to provide wreaths for all 48,000 veterans buried at DFW National Cemetery.
Currently the cemetery has wreaths for just over 17,000 graves. But there are about 30,000 more to cover.
"We desperately need help for 30,547. And the key is that they only costs $15 for a wreath," said Larry Allen, the director of the local chapter. "A veteran can die twice, once when they stop breathing and a second time when we stop saying their name. So, while we're out there and laying those wreaths, our goal is to say their names. We will do that every year as long as this program is going."
The group has been working with Wreaths Across America to collect donations and order the wreaths. Volunteers will place those new wreaths on graves in December.
To make a donation, visit www.wreathsacrossamerica.org/TX0706P.
READ MORE:
Veterans Day 2021: 'Make Camo Your Cause' and support those who have served
Honda giving away free gas to North Texas military members in honor of Veteran's Day
Senior center helps Richardson veteran fulfills lifelong skydiving dream
North Texas non-profit helping veterans through power of music