North Texans prepare for pain at the pump for Thanksgiving travel
DALLAS - President Joe Biden has ordered the release of 50 million barrels of oil from emergency oil reserves in an attempt to lower gas prices as millions of Americans hit the road for Thanksgiving.
In recent weeks, the price of gas and inflation have become hot button topics for Biden's administration.
The strategic petroleum reserve is a large supply of oil along the Texas and Louisiana coasts that the U.S. keeps for emergencies. Two reserve locations are in the Houston area.
North Texans are definitely feeling the pain at the pump. And while it is not enough to stand in the way of Thanksgiving with family, people say they will have to start making other cuts.     
It's the purchase no one enjoys making,  but people like Angelica Vogt have no choice.
"I commute from Frisco to Dallas," she said. 'If you don't get gas, you can't go to work."
Like many business owners, Mel Jackson is finally getting relief from the hard impacts of the pandemic. He owns Transportation Unlimited in Dallas.
"Everything has gone up. When the price of chicken goes up, you know everything went up," he said. 
While business is better, the price at the pump has impacted him greatly. 
"We idle a lot to try to keep the customer warm or cold, so it's about a 30% increase on us," Jackson said. "Very noticeable."
Don't expect prices to come down anytime soon as a result of President Biden's move to tap into the strategic oil reserves. The president announced a plan to release 50 million barrels of oil from emergency reserves.
MORE: Biden to release 50M barrels of oil from Strategic Petroleum Reserve to lower prices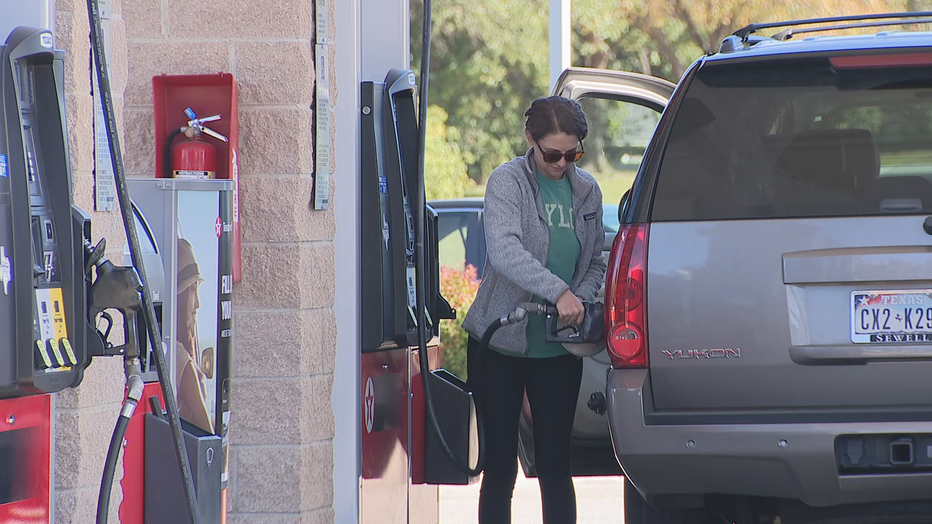 "It's entirely a political gesture. I hate to be so cynical, but there is no other way to think about it," said SMU Economist Mike Davis. "It will make no difference overall to the U.S. economy and will have a minimal impact on energy prices."
While 50 million barrels may sound like a lot, it is only roughly a half-day supply for the world. 
Davis says the impact of rising gas prices is greatest for those with low to moderate incomes. 
"This is really a drop in the ocean or maybe a bucket in the ocean," he said. "Gasoline is not one of those things where you don't have a lot of alternatives. If the price of beef goes up, fine. I'll eat chicken. But if the price of gas goes up, you still have to go to work and get the kids to school. 
There are no easy or quick solutions. 
"Long term, it can encourage more domestic production, pipelines and approval is a real bottleneck these days," Davis said. "But anything we do to increase production runs contrary to goals to decrease fossil fuel consumption."
Bud Weinstein is a retired SMU economist. He says the 50 million barrels will have a minimal impact on the U.S. economy and amounts to about two days of the country's total consumption. 
"This move by the president is more a political move. It's about the optics," he said.
Weinstein points out that it will take weeks for that oil to be refined and turned into fuel.
"[The president] wants to be perceived as being concerned about rising energy costs and trying to help consumers, who are ultimately voters," he said.
For those feeling it the most, they aren't holding their breath for relief at the pump anytime soon. 
"I am hoping we see some parts of it," Jackson said. "Usually, we don't see it at all."
Karla Garcia says the impact of the rising cost of gasoline is difficult, but it's not enough to keep her family apart when people can once again get together. 
"You got to do what you've got to do," she said.
The price of crude oil actually increased Tuesday to about $78.76.
President Biden is also calling on the Federal Trade Commission to look into alleged anti-competitive behavior that could also be driving costs up.