Nigerian national sentenced for trying to defrauding seniors, a Collin County school district and a charity
PLANO, Texas - The FBI says a Plano-based Nigerian national scammed a Fort Worth charity out of more than $100,000.
Babatope Joseph Aderinoye, 30, was sentenced to prison for that crime as well as millions of dollars in other fraud cases.  The Fort Worth non-profit he stole from offers financial support to the terminally ill.
Aderinoye was sentenced last week to 34 years in federal prison for a multimillion-dollar fraud scheme targeting senior citizens, a North Texas school district and even a charity helping families of terminally ill patients.
Kristina Robertson says her Fort Worth non-profit got taken for $100,000.  She runs Project 4031. They provide financial relief to families of terminally ill patients. Some of those names are tagged to their wall.
"Just feel very blessed to be able to be a part of it," she said.
They also fulfill final wishes, anything from a trip to a Rangers game to Christmas presents.
Robertson says her bank noticed a suspicious email request for a money transfer. Turns out her email account was hacked.
"I think he was just fishing and kind of seeing who he could catch," she said.
The FBI says starting in 2018 Aderinoye used fake passports to set up fake businesses and bank accounts. He's tied to at least 13 aliases, 12 fake businesses and 40 fraudulent bank accounts. He and his co-conspirators used various email and phone scams, posing as someone familiar and encouraging victims to wire money. They'd then transfer the money to a Nigerian bank account. Feds say he stole more than $6.7 million from a lengthy list of victims.
"I think we were very naive at the time thinking that it would not happen to us even though we were taking what we thought were appropriate procedures," Robertson said. "They weren't enough."
Project 4031 had to close bank accounts but was able to recoup all of its losses. They're now back to helping people while warning others to watch out for scammers.
"Like I said, our policies and procedures and actions that we took that was a great lesson learned," Robertson said.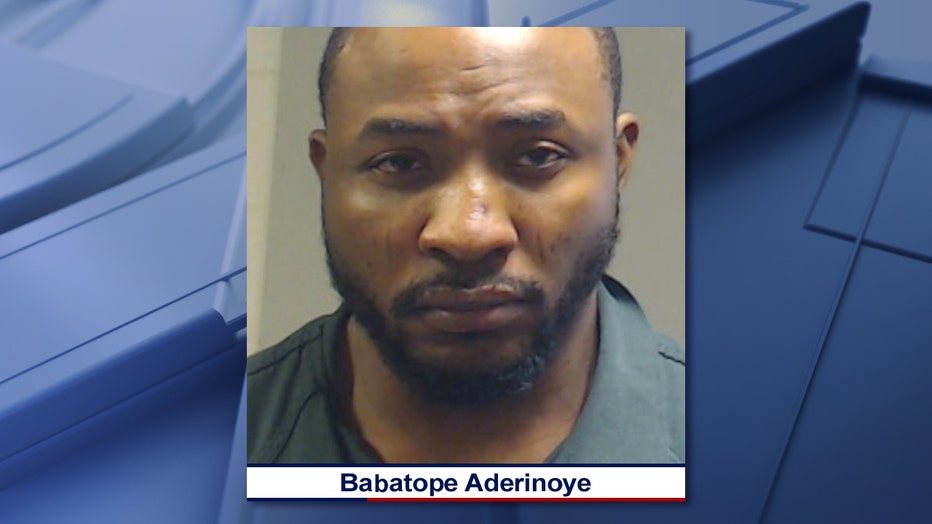 Aderinoye even tried to steal money from Community ISD in southeastern Collin County, but he was unsuccessful.
The U.S. Attorney's Office said the school district was the one that spearheaded the investigation by catching the attempted fraud before any wires were sent. It led to the FBI investigating the bank account where the funds were to be redirected.
"In the Community ISD attempted fraud, one of the perpetrators sent an email that purported to be from an employee of Pogue Construction. Pogue Construction had contracted with Community ISD to build a new school and some other facilities. As a result, Community ISD was sending large payments regularly to Pogue. In an initial email, the perpetrator asked Community ISD to send them the last payment amount made to Pogue, which was $590,774.09. They then requested that Community wire all future payments to a new bank account, which was the fraudulent account. Records showed that the next payments made by Community ISD to the real Pogue Construction were $27,250 & $669,693.65. These payments were made shortly after the attempted fraud and likely would have been sent to Aderinoye and his co-conspirators had the scheme not been uncovered by Community ISD employees," said Davilyn Walston, a public affairs officer for the U.S. Attorney's Office.
"The types of fraud committed by Mr. Aderinoye and his co-conspirators not only have lasting ramifications for the affected victims but also threaten the integrity of our country's financial systems," said Acting U.S. Attorney Nicholas J. Ganjei.  "While today's sentence is a decisive victory for the victims of Mr. Aderinoye and his co-conspirators, the overall fight against cyber fraud continues.  EDTX will do everything in its power to bring other cybercriminals to justice, and to recover ill-gotten gains for those victimized."
The FBI is reportedly still working on the case to identify potential victims and Aderinoye's co-conspirators.
In addition to his prison sentence, Aderinoye was ordered to pay nearly $2 million in restitution.
Correction: A news release from the U.S. Attorney's Office Eastern District of Texas incorrectly stated Babatope Aderinoye defrauded Community ISD. The school district was able to avert the fraud attempt and alerted authorities.