New Braunfels church leaning on faith after bus crash kills 13 senior citizens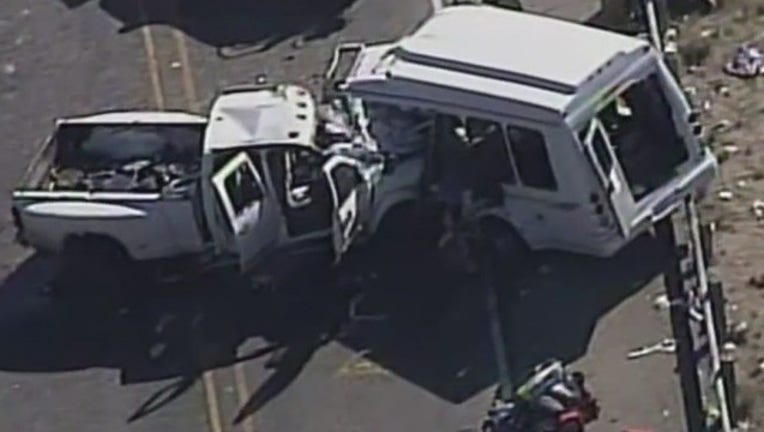 About a year ago Glenn Timmerman met 87-year-old Harold Barber.  Timmerman isn't a member of First Baptist New Braunfels but the two did attend a Bible study together. 
WATCH PRESS CONFERENCE REGARDING BUS CRASH
On Wednesday, Timmerman was watching TV when he saw the news about the bus that crashed carrying his friends from First Baptist.  Harold was on that bus.
Read 13 killed after bus crash near Garner State Park
"My first thought 'Oh I hope not Harold.  Not on there.'  When I saw his name on the news my heart just dropped.  And I started praying," Timmerman said.
It happened on Highway 83 outside of Garner State Park which is about 75 miles west of San Antonio.   A pickup driven by 20-year-old Jack Dillon Young crashed into the bus carrying 14 people from First Baptist Church in New Braunfels.  Young made it out alive but only one passenger survived on the church bus.  The senior citizens were on their way back from a 3-day retreat.
Timmerman wants everyone to know something about his friend Harold: "That he was a devout Christian and a wonderful man...that's all I can say," he said.
FBC pastor Brad McLean spoke with the press Thursday morning.
"Our hope as a church is that we make much of Jesus during this time.  Many might ask the question: 'why would God allow this to happen?' I can't answer that question," he said.
But McLean says he trusts God's perfect plan. 
Read Names of victims of New Braunfels church bus crash released
"I also encourage people to pray for the family of the driver of the other vehicle.  That family is hurting.  I encourage that we show grace to them...we pray for them and show love for them," McLean said.
Jamie Anderson manages a nearby senior living community called Eden Heights.  Some of the residents had friends on the bus.
"One is so shaken up that she could hardly get to the office to inform us about it," Anderson said.
So he called First Baptist about grief counseling.
"Once we found out that it was going to be here all day long, we got our buses and vans ready for whoever needed to go and we decided that we were going to make daily runs," Anderson said.
64-year-old Rose Mary Harris is the only survivor from the church bus. She was airlifted to a San Antonio hospital.
"We love her. We're praying for her.  And fully hope and expect we that we will see her beautiful smiling face back in our choir very soon," McLean said. According to the Brooke Army Medical Center Harris has been upgraded from critical condition to fair condition.