Murdered Baton Rouge Sheriff's Deputy laid to rest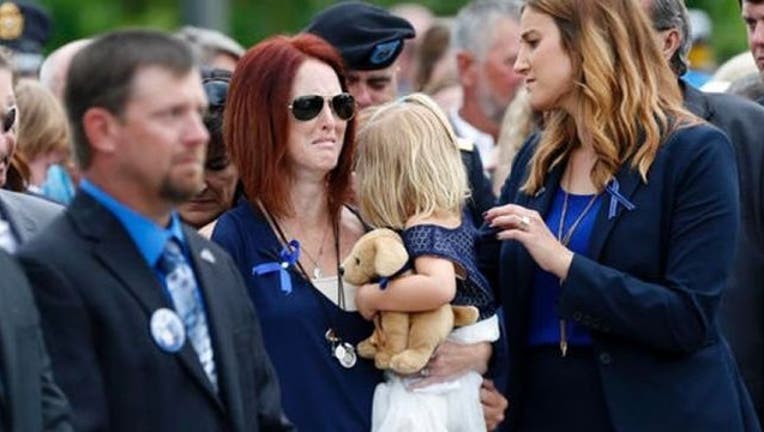 article
BATON ROUGE, La. (AP) -- Hundreds of people lined up Saturday to pay their respects to the family of a Louisiana sheriff's deputy killed by a gunman six days earlier.

Deputy Brad Garafola and two Baton Rouge police officers were killed outside a convenience store less than a mile from police headquarters.
 
The line of mourners snaked through hallways in the 1,500-seat sanctuary at Istrouma Baptist Church in Baton Rouge, out the back door and into the parking lot. It included scores of officers from around Louisiana and from coast to coast.
 
Two police officers and two sheriff's deputies came from the Seattle, Washington area. Bellevue police Officer Paul Dill said their chief feels it's important to honor brother and sister officers. He said the department sends an honor guard contingent to every out-of-state death in the line of duty.
 
Early arrivals for Garafola's service included a deputy who worked with Garafola in the department's foreclosure division and was dressed in Scottish regalia as drum major for a pipe band.
 
Deputy Greg McLean described Garafola as a generous family man. He said that when another deputy in the department was losing hair to chemotherapy, Garafola shaved his own head in support.
 
Garafola, 45, will be laid to rest one day after hundreds turned out for a funeral service for Baton Rouge police Officer Matthew Gerald, 41.
 
Funeral services for the third officer slain, 32-year-old Montrell Jackson, are slated for Monday. A multi-agency memorial service for the officers is scheduled for Thursday.
 
The three men were shot and killed by 29-year-old gunman Gavin Long; three other officers were also wounded in the shooting. Long was killed by police.
 
The shootings came at a time of racial tension in the city and country after a black man was shot and killed during a confrontation with two white police officers outside a convenience store. The next day a black man in Minnesota was shot and killed by police, and his girlfriend livestreamed the aftermath on Facebook. The day after that, a black gunman in Dallas opened fire during a protest against the Minnesota and Baton Rouge shootings, and killed five police officers.
 
Garafola's boss, East Baton Rouge Sheriff Sid Gautreaux, described to reporters how he could see Garafola on surveillance video, firing at the gunman as bullets hit the concrete around him.  
 
"My deputy went down fighting. He returned fire to the very end," the sheriff said.
 
Garafola's friends described him as a man committed to public service and devoted to his family.
 
He leaves behind a wife and four children: a 21-year-old son, a 15-year-old daughter, a 12-year-old son and a 7-year-old daughter.