Missing autistic 6-year-old found dead in pond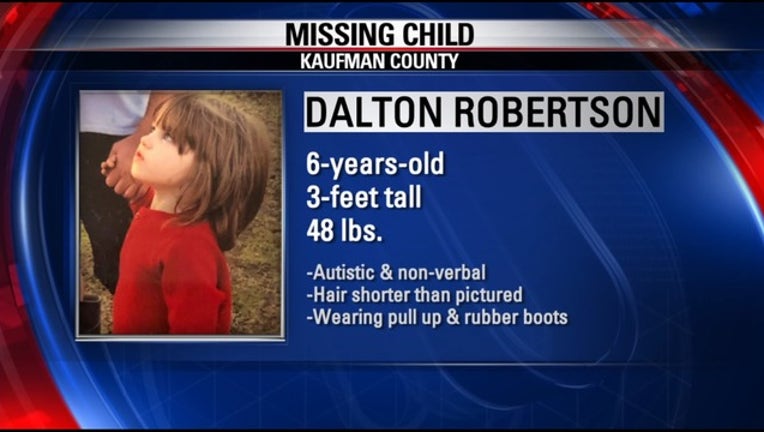 6/25/18 UPDATE: The missing boy's body was found in a pond early Monday
------------------------------
Several agencies in Kaufman County are searching for a missing 6-year-old.
The Kaufman County sheriff says Dalton Robertson is autistic and non-verbal. He was last seen around 3 or 4 Sunday afternoon. His parents think he walked out of their Terrell home near Cottonwood Ln. and FM 987 near Talty.
The boy's parents called the sheriff's office around 5:51 P.M. They tell police they keep the door locked, but believe the boy found the key and walked out. The family says he has gotten out before but they were able to find him quickly.
Police say the boy was wearing only a pull up diaper and black rubber boots. He is about 3 feet tall and weighs 48 lbs. with brown hair and blue eyes. His hair is also shorter than in the photo provided.
"If they see him please call us. Try and not approach him because he does not like to communicate with anybody, he will run so call us, we'll get a family member or one of us down there and get him picked up but we need everybody to keep their eyes open," said Kaufman County Sheriff Bryan Beavers.
The search is being carried out on the ground and from the air. Sheriff Beavers says about 70 volunteers are already helping search. Those wishing to help can contact the Kaufman County Sheriff's office for the volunteer staging area.