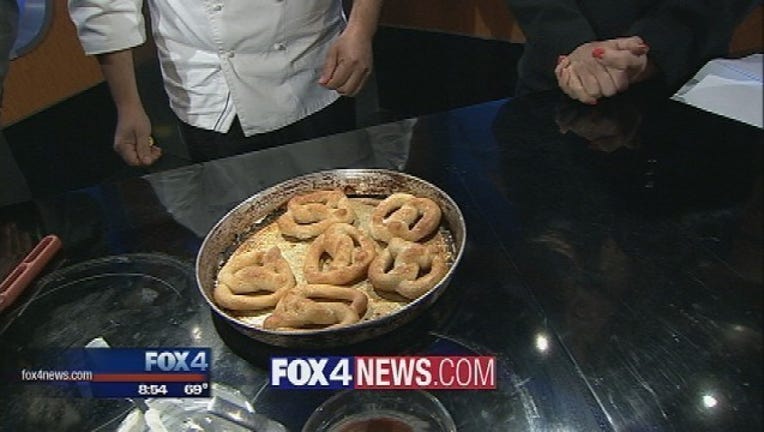 Mini Pretzels
4-1 oz. balls of pizza dough
Butter - melted unsalted 0.25 fl. oz.
Kosher salt 0.2 oz.
Parsley -Sprinkle
Take a 1 oz. dough ball and hand roll the dough into a long, thick strand, place the dough on the prep table and use the palm of your hands to roll it back and forth against the counter top.
Push the dough outwards until it reaches 17½ inches - the same length as the large cutting board
Form a "U" shape with the dough and twist the ends around each other twice
Attach the twisted section to the bottom of the "U" by taking the twisted section of the pretzel and folding it over until the ends meet the bottom of the "U".
Ensure to press the twisted ends firmly into the dough to ensure it maintains the shape during the baking process.
Place pretzels on a baking sheet and bake for 10 minute at 425 degrees.
Once the pretzels are cooked, brush the pretzels with butter.
Evenly sprinkle the pretzels with 0.2 oz. of kosher salt.
Garnish with parsley
Enjoy with your favorite dipping sauce (honey mustard, yellow mustard, nacho cheese sauce)

Mini Cinnamon Pretzels with Nutella

4-1 oz. balls of pizza dough
Butter - melted unsalted 0.25 fl. oz.
Granulated sugar 8 oz.
Ground cinnamon 0.5 oz.
Repeat same steps as above except once the pretzels are cooked, brush with butter and sprinkle with cinnamon sugar mixture.
Nutella Dipping Sauce Ingredients:
Nutella® 4 oz.
Whipped cream 6 oz.
Nutella Dipping Sauce Preparation
Place the Nutella® and whipped cream in a mixing bowl.
Using a whisk, mix the ingredients until the mixture is a light brown color (approximately 3 minutes) and the mixture is light and fluffy.