Migrant surge leads to overcrowded shelters in El Paso
EL PASO, Texas - Hundreds of asylum seekers who came to the United States hoping for a better life are now living in crowded shelters or on the streets near the southern border.
Rescue Mission of El Paso is still taking people in, but they're reaching their limit.
The shelter used to hold around 100 people, but over the past few months, it's been housing up to 300 people, putting a strain on resources.
There are migrants of all ages in the shelters. The youngest is just a few days old.
Supreme Court to keep Title 42 in place indefinitely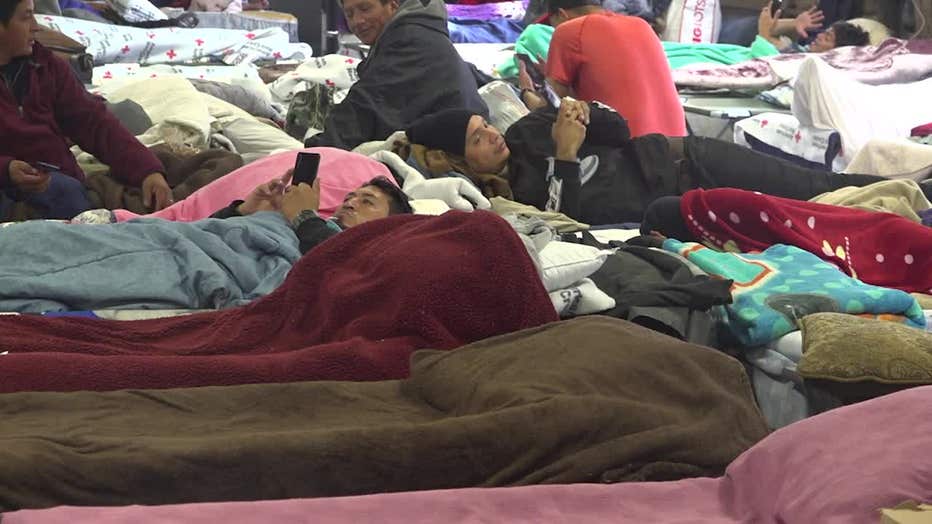 Rescue Mission of El Paso CEO Blake Borrow said it opened up a new space around 10 days ago to hold more migrants in need. 
The shelter isn't turning anyone away for now, but there are still hundreds more migrants living on El Paso's streets.
El Paso County to begin busing migrants to Dallas
Barrow said often, families will get separated on their journey to the U.S. and want to wait on the streets instead of going to a shelter. These migrants all came over to be able to support their families.
"We can do what we can to help a person in need that's standing in front of us. But the real answer is what can we do to make Central America a place, that you're willing to live in your own country. Now, when you have a government in places like Nicaragua and Venezuela, that's a whole lot easier said than done," Barrow said.
Migrants that spoke to reporters said back in their country, they are scared for their lives.
Over the weekend in Juarez, Mexico, which is only about two miles away from the border, 14 people were killed when a gunman attacked a state prison. 
The journey to the U.S. for many migrants was treacherous and Barrow said he's heard countless heartbreaking stories of people getting robbed and family members getting murdered on their way.
Gov. Greg Abbott invokes 'invasion clauses' in border security push
So far, the shelter has yet to get any federal funding. Everything comes from private donations, but it is hoping to receive federal reimbursement soon.
The shelter is also working with the county, which is applying for FEMA assistance.