Massive brawl at Mesquite 7-Eleven began with attempt to buy cigars, police say
MESQUITE, Texas - Police are asking for the public's help to find the people responsible for an attack at a Mesquite 7-Eleven over the weekend that was caught on camera.
The cell phone video shows the attack against two female employees at the convenience store off Faithon P. Lucas Boulevard on Saturday evening.
You can see people throwing items from the store and others throwing punches. 
"This is an absolute senseless act of violence," said Lt. Brandon Ricketts of the Mesquite Police Department.
MPD is investigating the attack and asking the public to identify the people in the video. Investigators say most of the people involved appear to be minors.
Police say the fighting broke out after the clerk refused to sell a cigar to an underage female.
Investigators say that after the girl was denied, she went outside and rallied her friends.
"It looks like there was at least eight people that entered the store," Lt. Ricketts said.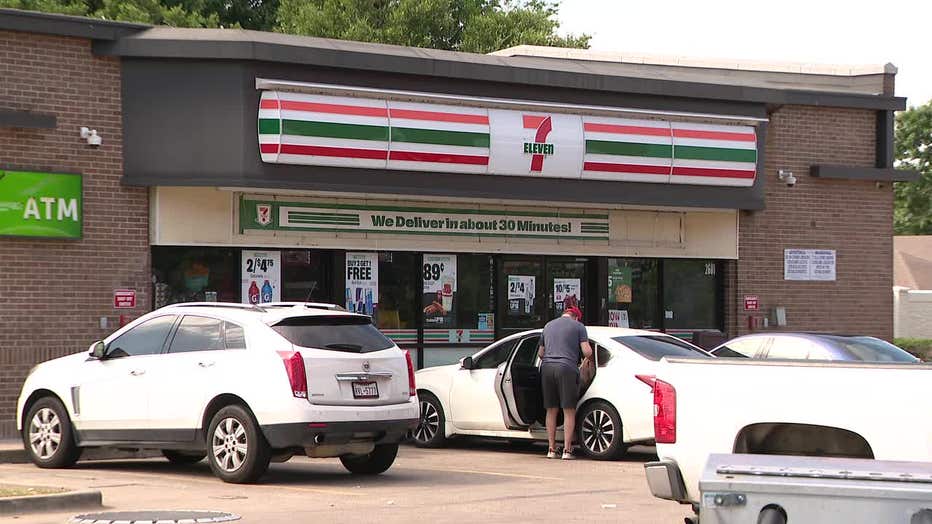 Then the brawl began.
"The clerks were just doing their job. They were trying to make a living," said Lt. Ricketts
FOX 4 showed the video to customers like Ashanti Ferrell.
"Somebody could've lost their life or, you know, a different situation," Ferrell said. "I feel like somebody started it, and then you are with the group and you already there, so they just went on with the situation, but I don't think that was very wise for them to do."
Mesquite Police is also reviewing 7-Eleven's surveillance footage. A silver Dodge SUV is identified as at least one of the suspect vehicles.
Police believe what's seen in the cell phone video highlights the need for some parents to keep closer eyes on their kids, especially as summer starts.
"Know who they're hanging around with, know what they're up to, because it's hard for me to believe that any of them on their own would've done something like this, but you start hanging around the wrong crowd, you start doing things that you normally wouldn't do — next thing you know you have a criminal history that follows you around the rest of your life," said Lt. Ricketts.
The two female employees who were assaulted has busted lips and some minor injuries, according to police.
Both employees were at work on Monday, but declined an interview due to company policy.