McKinney day care worker pleads guilty to more child abuse charges
McKINNEY, Texas - A former Collin County daycare worker convicted of injury to a child has pleaded guilty to more charges.
Jessica Wiese was sentenced to 10 years in prison in December for abusing an infant. She pleaded guilty on Wednesday to six more felony counts of injury to a child.
Wiese was arrested in 2018 after police said she was caught on surveillance video "body slamming" and "shaking" multiple children at McKinney Joyous Montessori Day Care. That daycare has since closed.
The mothers of the babies were allowed to give their impact statements in court on Wednesday.
"It's just a parents' greatest nightmare. You research all these daycare places to take them, and then you find out later what was happening. It was just horrifying for them," said Collin County District Attorney Greg Willis.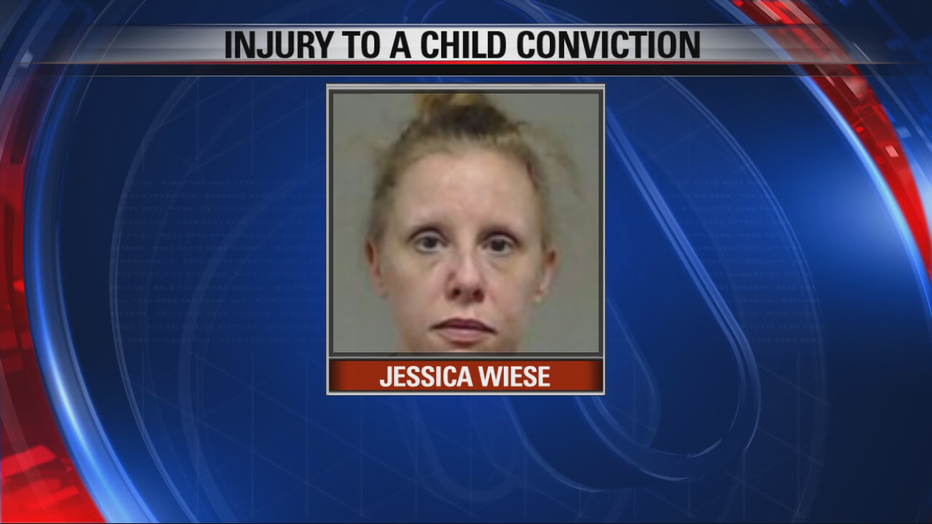 Cameras were not allowed inside the Collin County courthouse. Angeline Muse shared her words for Wiese after court.
"The behaviors and actions you exhibited were careless and heartbreaking, not only to our daughter, but to all victims involved," Muse said.
In December, a jury convicted Wiese for the dozen fractures she caused to Kairo. At the time in December 2018, he was just three months old. It was Kairo's injuries that caused police to investigate Wiese.
Affidavits state that surveillance video showed her shaking and body-slamming babies.
"It's not only my family and Kairo," said parent Ariel Murphy. "It affected seven other children and their families as well."
A jury sentenced Wiese to 10 years for that crime. Now, she is sentenced to a total of 20 years in prison for a total of eight counts.
"The greatest punishment the law allows is a 10-year sentence," explained Willis. "So by dividing up these cases, we could stack another case on there. So that's why this lady is getting 20 years total."
Some of the mothers of the victims say their babies still have panic attacks and night terrors.
Olivia Williams said her son still cannot fully sleep in his crib and has a hard time staying on a changing table without having an emotional reaction.
"This has been very hard on us," she said. "I cannot work because he can only sleep with me holding him."
One mother talked about the stress and anxiety she now faces when leaving her daughter anywhere. Another described having awful nightmares about what happened.
"I forgive you for all the things you have done to my child," she said. "I will not be bitter about a person who now has to spend a portion of her life behind bars."
Wiese's plea deal adds another 10 years onto her prison sentence. She must serve five years of her total 20-year sentence before she is eligible for parole.
Wiese and her attorney are appealing her original jury conviction. Judge John Roach Jr. told her she is welcome to file an appeal and might even be successful.
"But it won't matter," the judge said. "You're going to be doing 10 and I'm going to stack 10 on top of that."
 Related: Former McKinney daycare worker gets 10-year prison sentence for child injury case
Editor's Note: Currently, there are three other independently owned and operated daycare centers in North Texas with the same name, Joyous Montessori Daycare.  Neither, Jessica Joy Wiese, nor the McKinney daycare, have any affiliation with the independently owned and operated daycare centers with the same name in Keller, Lewisville and Fort Worth counties.