Lt. Gov. Dan Patrick presents $45k check to Assist The Officer Foundation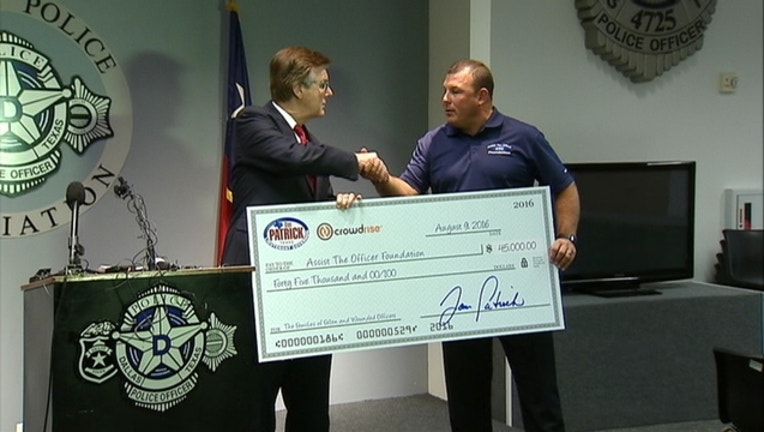 article
Lieutenant Governor Dan Patrick awarded a $45,000 check to the Assist The Officer Foundation at the Dallas Police Association on Tuesday.
The money donated was all raised online to support the families of the five fallen Dallas officers killed in the July ambush in downtown Dallas.
During a press conference after the event, Patrick said he wants the state to create legislation to exempt surviving spouses from having to pay property taxes on their homes, even if the home is paid for.
Patrick also announced he would be meeting with officers from across Texas to ask them exactly how the state can help.
"I want the state to step up to guarantee that when our officers hit the street and are on patrol they have the best tech that there is to offer. I want to make sure that when they take their shift that they are protected as much as humanly possible," Patrick said.
Patrick also said he wants the state to commemorate the day of the ambush in downtown Dallas, July 7, to make sure families of the fallen know the state will never forget.