Krispy Kreme's new Biscoff doughnuts now arriving in U.S. for the first time ever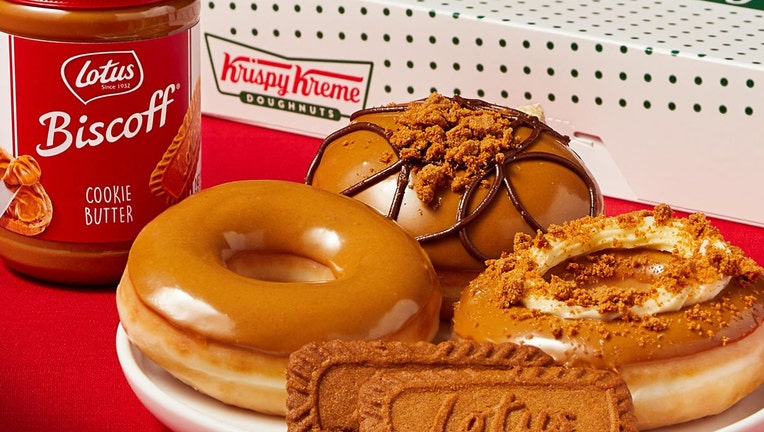 article
Fans of cookies and doughnuts are in for a nice jolt to their sweet tooth to kick off the new year thanks to Krispy Kreme.
The Charlotte, North Carolina-based doughnut franchise teamed up with Lotus Biscoff to launch its new Biscoff Doughnut Collection, doughnuts combining the flavors of Krispy Kreme's original glaze with Lotus Biscoff's cookies and cookie butter for the first time in the United States. 
RELATED: Krispy Kreme offers a dozen doughnuts for $1 on annual 'Day of the Dozens'
Fans can get their hands on these new desserts for a limited time starting Monday until Jan. 29 at participating Krispy Kreme stores. 
These new doughnuts come in three delicious flavors: 
Biscoff Iced Doughnut, a doughnut dipped in Biscoff cookie butter icing.
Biscoff Cookie Butter Cheesecake Doughnut, an original glazed doughnut dipped in Biscoff butter icing and topped with a swirl of cream cheese buttercream and Biscoff crumble.
Biscoff Cookie Butter Kreme Filled Doughnut, a shell doughnut filled with Biscoff cookie butter kreme filling with Biscoff cookie butter icing featuring dark chocolate icing and Biscoff crumble.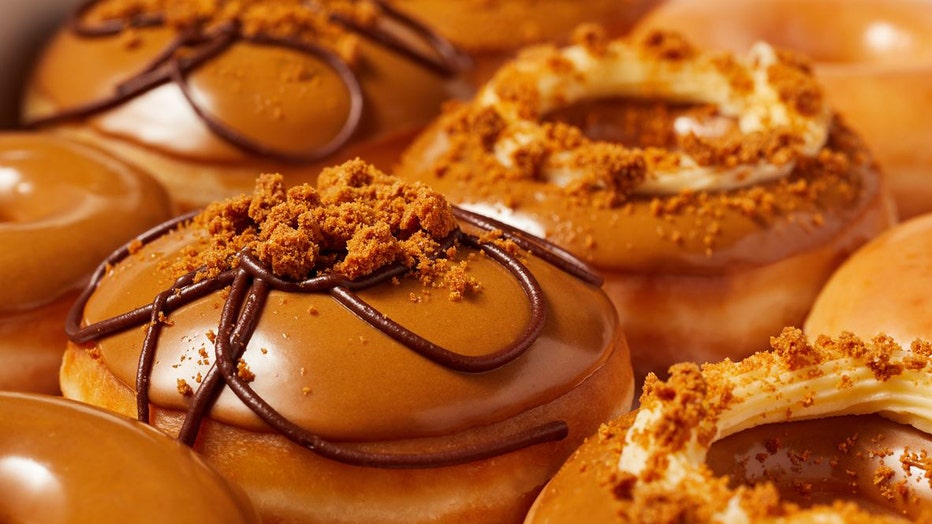 Krispy Kreme teamed up with Lotus Biscoff to launch its new Biscoff Doughnut Collection. (Photo courtesy of Krispy Kreme)
"Our doughnuts made with Lotus Biscoff are popular around the world and it's definitely time for our U.S. fans to get a taste," Dave Skena, global chief brand officer for Krispy Kreme, said in a statement. "Both doughnut and cookie lovers will be amazed by this delicious combination." 
Krispy Kreme is known for releasing unique doughnut flavors for their customer base. Last year, Krispy Kreme debuted its new holiday doughnut flavors. These treats included a Holiday Sugar Cookie Doughnut, Gingerbread Cookie Crumb Doughnut, Red Velvet Cake Doughnut, Santa Belly Doughnut, and Chocolate Iced with Holiday Sprinkles. 
This story was reported from Washington, D.C.