Kentucky clerk goes back to work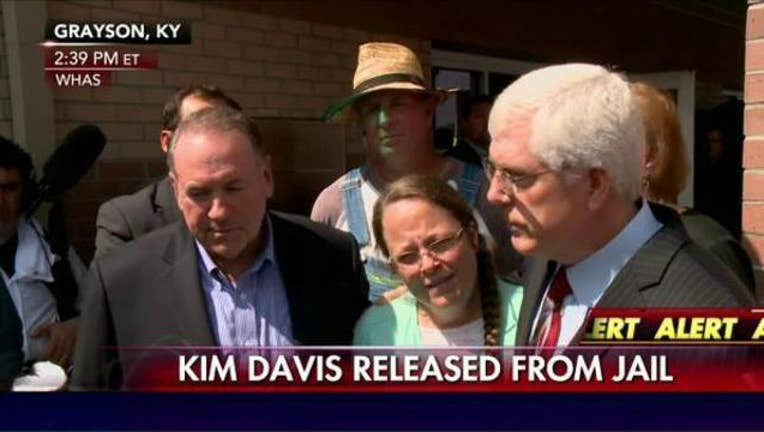 article
MOREHEAD, Ky. (AP) — Kim Tabor hates to answer the phone these days, because so often the caller starts screaming.
Tabor works for the Rowan County Circuit Court Clerk, which keeps track of criminal and civil filings in a town that prides itself on peace and quiet. Marriages are handled across the street, where Rowan County Clerk Kim Davis has ignited the passions of religious conservatives around the world by refusing to authorize weddings for anyone since the Supreme Court legalized gay marriage nationwide.
Tabor said people have called from all over, confusing the two offices. They ask for Kim, and when she answers, they don't wait for her explanation before they start screaming.
In this eastern Kentucky town, now center stage in a national conflict, angry words and gestures have too often replaced quiet conversation - or, more often, silence - on a subject deeply personal to both sides. But many who will remain after the television trucks go away hope things will get better.
Most know there's more to their town's story than the high-decibel discussion that's been playing out lately.
"There are no winners. Everybody's been hurt," said Lois Hawkins, a Morehead native who works as the executive secretary to the county's top elected official. "It's going to be different. It can't go back the way it was."
Until two months ago, the people in this small town in the Appalachian mountains of eastern Kentucky had an unspoken agreement to tiptoe around each other's sexual identities and religious beliefs.
But that uneasy truce was shattered after Davis, an Apostolic Christian, cited God's authority to defy a federal judge's order that she issue marriage licenses to same-sex couples. A judge threw her in jail last week, drawing a swarm of protesters and satellite trucks to the courthouse lawn and forcing townspeople to bring their deeply held beliefs out into the open, some for the first time.
In what was once a bustling hub of railroad traffic between Winchester and Ashland, the trains stopped running in 1974, preserving Morehead's small-town feel. Until recently it was mostly known as the home for Morehead State University and its men's basketball team, which occasionally lands in the NCAA tournament.
The university has attracted a diverse population of religious and social viewpoints in an otherwise conservative swath of eastern Kentucky, and shaped a generation of political leaders, including Hawkins' boss, Walter Blevins, who spent his summers attending the university's academic prep program.
Blevins said the university changed him "politically and perhaps morally as well."
"It was the first time I've ever been around any black people in my life," said Blevins, a Democrat. "It kind of awakened you to, 'hey we're all human beings.'"
The university's influence has been a source of frustration for some religious conservatives, including Randy Smith, an evangelist who has lived in Morehead since he was 12. If not for Morehead State, the community would have no issues with Davis or her actions, he said. Now, the situation is "forcing people to address an underlying issue that's been here for a long time."
"I think what a lot of it is the community wants things to go back to normalcy. But oftentimes if things go back to normalcy it means somebody has got to give up something," he said. "I think you will see more same-sex people out and they won't be as discreet as they once were in this community. And I think you will probably have more Christians that will possibly look upon that with some disdain."
For months, a group of Morehead citizens, calling themselves the Rowan County Rights Organization, have urged Davis to comply with the Supreme Court and issue marriage licenses to all couples. They called off their protests Wednesday.
Most of the group's members "live here, work here and have kids that go to school here," spokeswoman Nashia Fife said. Some have health problems, and Davis and her staff often came out to check on them and bring water.
"This has been pretty hard because a lot of us are friends with Kim Davis and her family," Fife said, adding that her husband works with Davis' daughter. "I mean, we don't talk about this stuff."
Protesters and supporters alike have come to Rowan County as well, adding to the stress for locals who want to get back to normal. Ante Pavkovic, a pastor from North Carolina, stood in the lobby of the county clerk's office Wednesday with a sign demanding that Davis' employees be fired for disobeying their boss by licensing same-sex marriages, even though they too face the threat of jail or fines if they defy the judge.
"Thinking of what the sodomites have done should make you sick," he said to the clerks, who mostly kept their heads down while a sheriff's deputy kept watch.
Mark Shrayber and Allen Corona, a gay couple from San Francisco, traveled to Morehead to get married, saying they wanted to make a statement against discrimination. Shrayber said he's not upset that Davis was released, but he's disgusted that she is being treated as a martyr. "We are in 2015. We are not burning witches anymore," he said.
Davis, who plans to return to work on Monday, said any marriage licenses issued without her authority are not valid. Deputy Clerk Brian Mason said Wednesday that if he has to, he will disobey his boss and continue issuing licenses rather than refuse the orders of U.S. District Judge David Bunning.
Kim Tabor, meanwhile, has been so upset with screaming callers that she had a bright orange T-shirt made, saying "Hello my name is not Kim Davis." She's been wearing it a lot lately.
"Most people smile and laugh," she said. "It has broken the tension in all of this chaos that's going around. I wanted to lighten the mood. Everybody's emotions are running high."
Tabor said she dreads filing past TV trucks each morning, and hates what the world might think of her hometown.
"I hope people keep an open mind and just come and see for themselves. We are so much more than what's going on today," Tabor said. "I have been taught that it's God's place to judge and the Holy Spirit's place to convict. It's my place to love."
___
Galofaro reported from Louisville, Kentucky.