Keene Sonic worker killed by 12-year-old with AR-15 rifle, police say
KEENE, Texas - There was a shocking murder Saturday night in a small Johnson County town. A 12-year-old boy was arrested for repeatedly shooting a Sonic employee with an AR-15 rifle.
The crime brought people out to Keene who did not know the victim to pay their respects. 
Jen Baggett of Keene says she felt compelled to start this memorial with a cross for the family of 32-year-old Matt Davis.
"I see there are fresh flowers added. A teddy bear. Flowers here. And I love it. I would've loved it. And I hope it brings a tiny bit of comfort to a horrible thing that happened to them," she said. "I was in disbelief. My youngest is 17, and I couldn't imagine that happening."
Keene police say Saturday evening just before 10 p.m., multiple people called 911 reporting a shooting in the Sonic parking lot. 
Dylan Elliott lives nearby and heard the loud gunfire. 
"I was outside. My fiancé ran in the house, and I heard a bunch of gunshots," she recalled.
Minutes later, a care flight helicopter was landing. 
"You see them every once in a while, but you never see them flying this low and this close to home at least," Elliott said.
According to police, this started when 20-year-old Angel Gomez of Fort Worth arrived at the Sonic with others in his vehicle. 
Gomez allegedly began urinating in the back parking lot, so Davis came outside speak to him. 
There was a fight between the two, and that's when police say the 12-year-old shooting suspect, a passenger, grabbed the AR-15 rifle from Gomez's vehicle and shot Davis multiple times. He later died at the hospital. 
Police say Gomez ran away with the AR-15 but then returned and was arrested. The 12-year-old also took off. 
Keene police and nearby agencies located him at a home in Rio Vista along with several firearms. 
Gomez is charged with tampering with evidence for leaving the scene with the AR-15. Police say it's possible that charge could be upgraded to murder.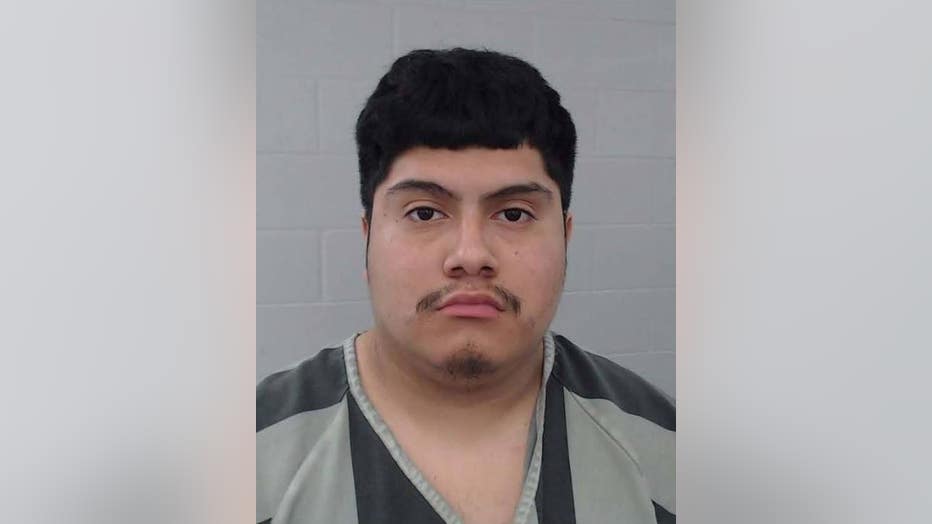 Angel Gomez (Source: Keene Police)
The 12-year-old suspect is at a juvenile facility in Granbury.
"A 12-year-old in this day has access to a gun and kills someone. Breaks my heart mainly," Elliott said.
Davis' family tells FOX 4 he leaves behind a 10-year-old son. His mother is working to bury her son in Louisiana, where he's from. 
Baggett says she spoke to Davis' family briefly on Sunday. She learned Davis had just moved to Keene and started the job at Sonic two weeks ago.