Jill Biden invites Austin couple to State of the Union to highlight abortion access
WASHINGTON - An Austin woman who nearly died after being denied a medical intervention because of Texas' abortion laws will be one of first lady Jill Biden's guests at the State of the Union address Tuesday.
Amanda Zurawski and her husband, Josh, will join Biden in her viewing box for the president's annual speech in order to highlight the administration's desire to address abortion access, according to the White House.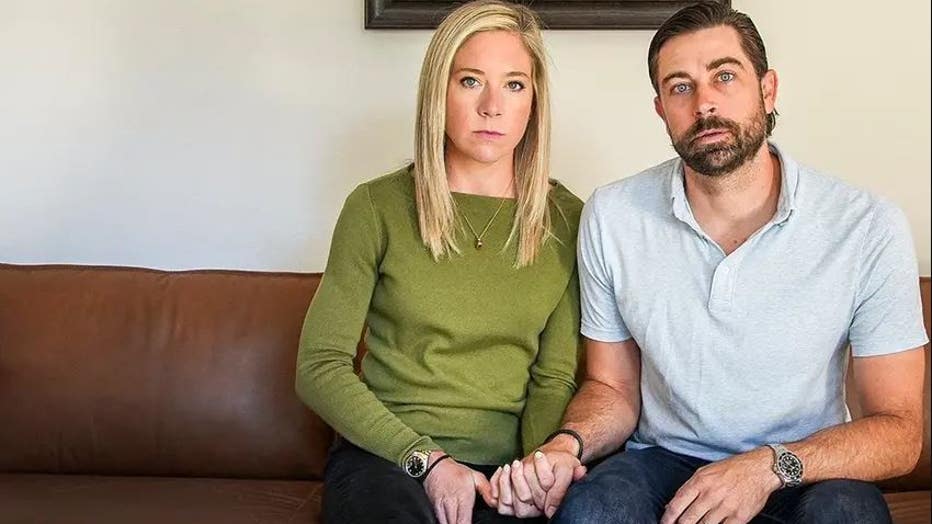 Amanda and Josh Zurawski at their home in Austin on Oct. 20. Eighteen weeks into Amanda's pregnancy, her doctor diagnosed her with an incompetent cervix and told her that the baby would not survive. Credit: Ricardo Brazziell/Austin American-Statesman
Last year, Zurawski's water broke when she was only 18 weeks pregnant. Although there was no way her fetus would ultimately survive, there was still cardiac activity, so her doctor refused to induce labor, citing the state's abortion laws. Instead, they sent her home. Only after Zurawski developed sepsis, a life-threatening infection, were doctors willing to terminate her pregnancy.
Texas' near-total abortion ban allows the procedure only to save the life of the pregnant patient. But since the law went into effect this summer, doctors have reported delaying care due to confusion over the exceptions and fear of prosecution.
READ MORE: State of the Union: Biden aims to deliver reassurance in 2023 address
The Zurawskis helped campaign for Beto O'Rourke in his challenge against Republican Gov. Greg Abbott last year, appearing in one of O'Rourke's last ads. During his campaign, Abbott indicated interest in revisiting the abortion law to ensure doctors don't delay necessary medical care needed to prevent life-threatening complications.
The White House has been critical of Texas' abortion ban, which went into effect shortly after the Supreme Court overturned the constitutional right to the procedure last summer. President Joe Biden said it would be his top legislative priority if Democrats retained control of Congress in the midterm elections. Republicans ultimately flipped the House, but that hasn't stopped a vocal group of Democrats from continuing to introduce legislation to restore abortion access.
U.S. Rep. Lizzie Fletcher, D-Houston, was a leading advocate for legislation protecting abortion access last summer, but the legislation failed to pass the then-evenly split Senate. In the House last week, she reintroduced the bill, which would codify the right to travel to states where abortion is legal.
The Zurawskis will join Oksana Markarova, ambassador of Ukraine, and others from around the country as the first lady's guests. The White House also invited RowVaughn and Rodney Wells, the parents of Tyre Nichols, and Bono of U2 for his efforts combating HIV and AIDS. They will sit with the second gentleman, Doug Emhoff.
READ MORE: State of the Union 2023: What to watch for during Biden's address
Texas members of Congress are also bringing their own guests to the State of the Union, offering an opportunity for political signaling.
U.S. Rep. Michael McCaul, R-Austin, invited Roya Rahmani, former ambassador from Afghanistan, to show "the women of Afghanistan that they have not been forgotten." McCaul has been a consistent critic of the Biden administration's withdrawal from the country, which opened the way for the Taliban to take over and rescind women's rights to education and free movement. McCaul vowed to conduct an investigation into the administration's withdrawal as chair of the House Foreign Affairs Committee.
Rep. Greg Casar, D-Austin, will bring Brett Cross, whose daughter Uziyah was killed in the Uvalde school shooting, along with 18 other children and two teachers. She was 10 years old.
Reps. Monica De La Cruz, R-Edinburg, and Lance Gooden, R-Terrell, both reached across the aisle with their invites. De La Cruz invited state Rep. Terry Canales, a Democrat representing her hometown, in a bid to move past the bitter partisanship of last year's highly competitive South Texas elections. Gooden will bring his former Texas House colleague Eric Johnson, a Democrat who is now mayor of Dallas.
This article first appeared in the Texas Tribune. Read more: Jill Biden brings Austin couple to State of the Union to highlight abortion