Irving Marathon, NCAA Bounce canceled due to weather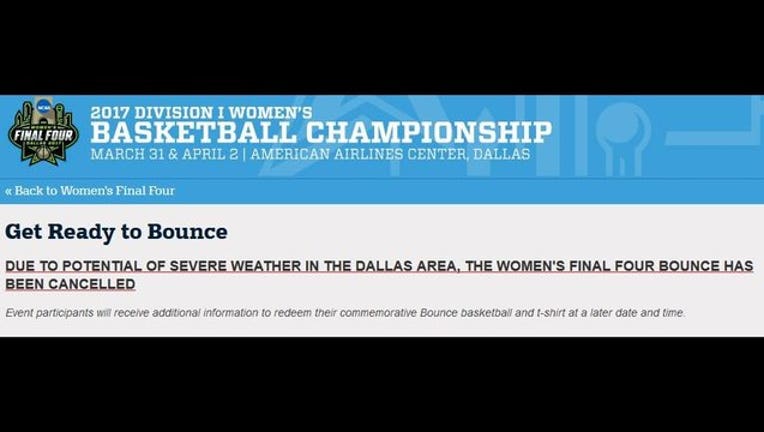 The Irving Marathon, which was scheduled for Sunday morning, was canceled due to weather.
Organizers shared the news Sunday morning through a post on Facebook;
Runners this communication is to inform you that the 2017 Irving Marathon has been canceled.
In consultation with the City of Irving, Irving Police Department, National Weather Service and other officials we have determined that conditions on the race course will be unsafe for runners, volunteers, spectators and event staff. The latest forecast models provided by the National Weather Service are indicating significant weather events including heavy rains, lightening, hail, damaging winds, flash flooding and the continued potential for tornadoes in the Irving area during the event window (beginning at 830AM – 230PM). Below is the link to the latest Hazardous Weather Outlook issued by the National Weather Service:
Hazardous Weather Outlook: https://tinyurl.com/n54tgs6
While we are disappointed and share your frustration, the Irving Marathon is committed to ensuring your safety on race day. Due to the amount of planning and coordination required to facilitate the event, we will be unable to reschedule for 2017.
Medal Pickup
We are planning to host a medal pickup in the immediate future. Once we have finalized dates, locations and times we will share those details.
Thank you for your support of the 2017 Irving Marathon, Irving Healthcare Foundation and our partners who make the Irving Marathon possible.
The weather also prompted the NCAA Bounce event Sunday to be canceled.
In a post on the event's website, organizers said;
DUE TO POTENTIAL OF SEVERE WEATHER IN THE DALLAS AREA, THE WOMEN'S FINAL FOUR BOUNCE HAS BEEN CANCELLED
Event participants will receive additional information to redeem their commemorative Bounce basketball and t-shirt at a later date and time. 
 For updates on the other Women's Final Four activities, visit http://www.ncaa.com/womens-final-four