Iowa family died of gas asphyxiation at Mexican resort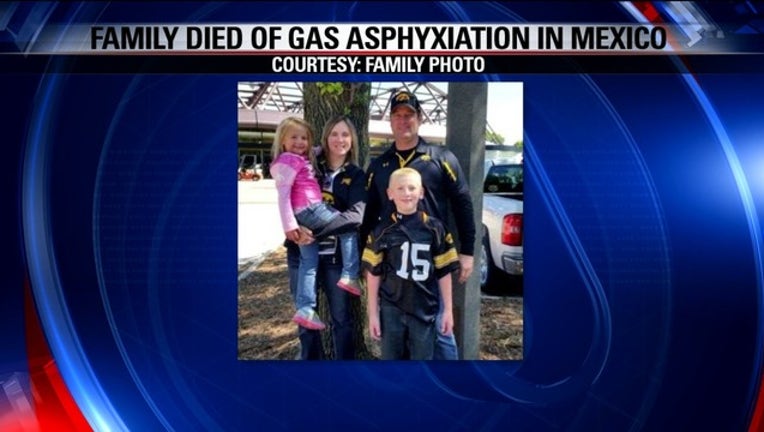 article
MEXICO CITY (AP) - Autopsies indicate an Iowa couple and their two children died from inhaling toxic gas at a rented condo on Mexico's Caribbean coast, but there was no sign of foul play or suicide, Mexican authorities said Saturday.
The prosecutors' office in the Caribbean coast state of Quintana Roo said that "the cause of death was asphyxiation from inhaling toxic gases." It said the type of gas hadn't yet been determined, but added that "any violent act or suicide has been discounted."
Photos released by the office showed investigators in anti-contamination suits and firefighters with air tanks examining gas connections to a stove in the condo in Tulum. The office said investigators "carried out a physical investigation of the gas connections in the room," and the civil defense office of Tulum would issue a technical report on the findings.
In 2010, the explosion of an improperly installed gas line at a hotel in the nearby town of Playa del Carmen killed five Canadian tourists and two Mexicans.
Iowa officials identified the family as Kevin Sharp, 41; his wife, Amy Sharp, 38, and their children Sterling, 12, and Adrianna, 7. They were from Creston, Iowa.
The family was reported missing by relatives in their hometown about a week after the family left for vacation. Creston police contacted the U.S. State Department, and the bodies were found during a welfare check at the condo in Tulum, on the Yucatan Peninsula.
The Quintana Roo prosecutors' office said the family had been dead for between 36 and 48 hours by the time they were found Friday at the Tao condominium complex.
Contacted Friday, the developer of the condo complex where the deaths occurred declined to comment.
The Creston News Advertiser newspaper in Iowa reported that the family flew to Cancun on March 14. According to her sister, Amy Sharp texted their mother the next day to say they had reached Tulum, but relatives didn't hear any more from the family.
The sister, Renee Hoyt, said the Sharps were scheduled to return to the U.S. this week. They were scheduled to depart from the Cancun airport on Wednesday and fly to St. Louis on a non-stop flight. The family had planned to then drive about 200 miles (322 kilometers) to Danville, Illinois, to watch a basketball game Thursday, Hoyt said.
When the family didn't arrive in St. Louis, family members contacted authorities, she said.