Hurricane Laura evacuees grateful for North Texas hospitality
FARMERS BRANCH, Texas - For a second day in a row, hurricane evacuees waited for hours in Mesquite hoping to be put in a hotel room for the night.
People from Texas and Louisiana are still evacuating to North Texas after being forced from their homes because of Hurricane Laura.
Many evacuees are waiting hours for hotel and food vouchers at a state-run receiving center in Mesquite.
Wait times have been so lengthy, some have time to play games outside their vehicles. Traffic is at a standstill with evacuees from hard-hit Lake Charles, Louisiana, wondering what they'll go home to.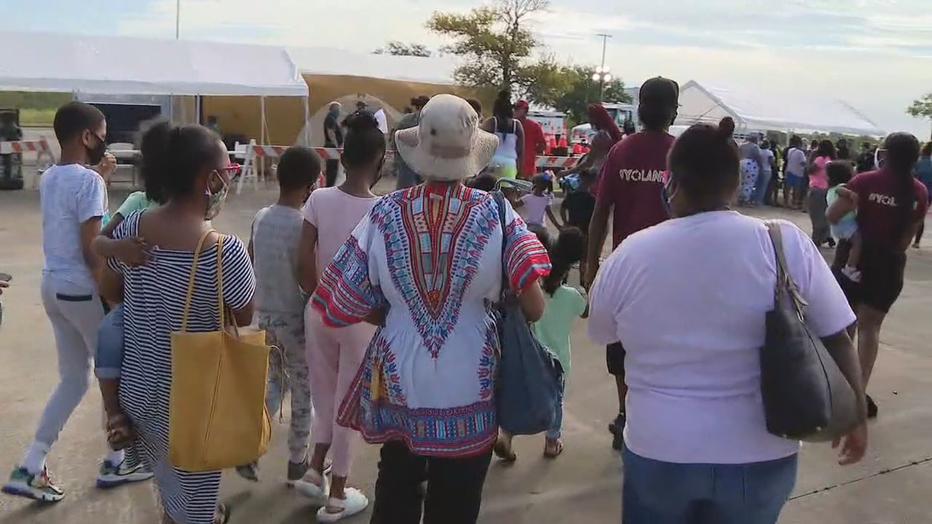 "When I go back, it could be in one place. But then in the back of my mind, it's a storm," said evacuee Kareem Mitchell. "So you never know what's going to happen."
Mitchell left Lake Charles with his fiancé and 4-year old and 9-month old child. Mitchell's children are too young to understand what's happening.
"But that's a good thing," he said. "You don't want your child to have stuff on his brain like we do."
Evacuees were restless overnight.
"I haven't even slept the whole time," said evacuee Melissa Wendtland. "There's no way. I mean, my neighbor stayed behind across the street and I don't even know if he's OK."
Some had no idea if their family members were safe.
Shirley Jones struggled to get a hold of her son.
"So I was up all night praying, couldn't get ahold of him, crying," she said. "Finally got ahold of him at 9 o'clock this morning. He was good."
The city of Mesquite is assisting with the Texas State Guard at the evacuee check-in location. The State Guard says hotel rooms have been difficult to come by. They've run out of rooms multiple times, and some evacuees have had to wait until vacancies were available.
All-in-all, the state says it's provided more than 7,500 hotel rooms to evacuees at this location.
"First are foremost, before we shelter and feed them, it's giving them empathy. Making sure they know that they're important, that they're cared for," said Wayne Larson with the city of Mesquite.
Evacuees say they are grateful to be somewhere safe.
"Hey, it's material stuff," Mitchell said. "But as long as you've got your family and God, you'll make it through anything."
People are also staying in hotels in Dallas, Fort Worth, Irving and Richardson.
The city of Dallas said donations are not needed right now for the evacuees but Dallas Animal Services will need help with displaced pets through either fostering or adopting.
Emergency officials said hotel rooms in Dallas filled up extremely fast on Wednesday.
"We have thousands of people who have self-evacuated and they're driving up, not finding hotels in Austin or San Antonio and they're now driving up to the DFW area. So we have a scarcity of hotel rooms in Dallas right now," said Rocky Vaz, the Dallas Director of Emergency Management.
The city of Dallas said it was working with neighboring cities to provide additional hotel rooms.