Hundreds of demonstrators gather outside Islamic event in Garland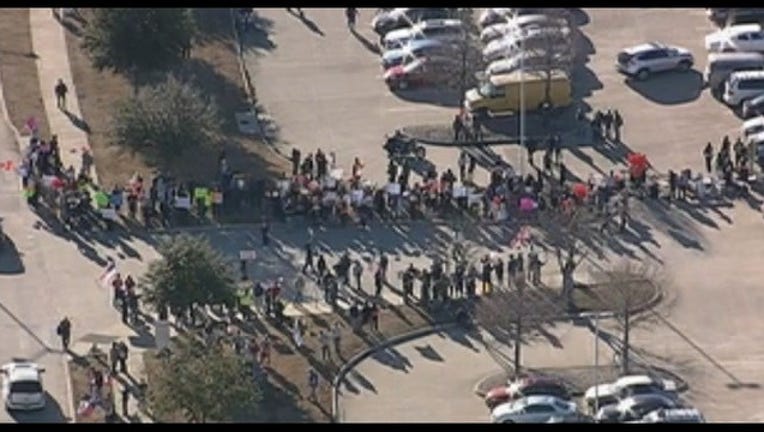 article
A crowd of people showed up outside of a Garland ISD facility Saturday evening in response to an Islamic peace conference.
While the event, called Stand with the Prophet Against Terror and Hate, is at a Garland ISD venue, the school district is just leasing it out and has nothing else to do with the conference.
A variety of people showed up outside of the event, some showing support of the event and their religion while others displayed displeasure.
Organizers of the event say it is intended to denounce terrorism and the issue of "Islamaphobia", the belief that Muslims are bullied and unfairly targeted in America because of the confusion that culture and religion are the same thing.
Extra police were on hand during and in the hours leading up to the event (demonstrators started showing up at noon). Advisors, speakers and say they've been threatened physically and verbally by hundreds of people from around the country.
A reason for much of the concern is the scheduled keynote speaker, Siraj Wahhaj. He's an imam from New York, identified by federal authorities as an unindicted co-conspirator in the 1993 World Trade Center bombings.
Wahhaj denied involvement, but did defend convicted plotters, and a New York Post article says he called the FBI and CIA "the real terrorists."
Alia Salem, a spokeswoman for the North Texas chapter of the Council on American-Islamic Relations, says there's nothing to fear.
"[Wahhaj] is an upstanding, law-abiding citizen," said Salem. "…He was never indicted; he was never brought to trial, charged with anything. He is well respected not only in the Muslim community, but also in the New York and national community."
This didn't change the mind of many of the protestors who held signs and expressed their displeasure with the event.
Despite the differing opinions in the crowds that surrounded the even, everything remained relatively peaceful and no major issues have been reported.