Healthcare.gov glitch fixed ahead of Sunday sign up deadline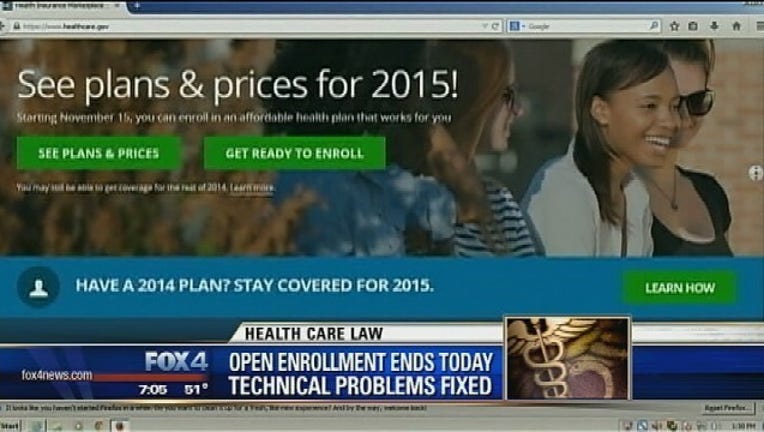 article
WASHINGTON (AP) -- A technical problem that had been interfering with sign-ups for President Barack Obama's health care law has been fixed, officials say. Any consumer whose enrollment was hampered by the glitch will be provided with a special enrollment period.
The problem popped up the day before a Sunday deadline to sign up for subsidized private health insurance. It had been intermittent, meaning some people were able to complete their applications and submit them, Health and Human Service Department spokeswoman Katie Hill said.
By Saturday night, the problem had been resolved, Hill said in a statement. Consumers affected by the problem should log in to their Marketplace account and click on their 2015 application to finish it and complete their enrollment for health coverage, she said.
Some people trying to get coverage hadn't been able to get their income information electronically verified. That's crucial because the amount of financial assistance to help pay premiums is based on people's income.
The health care law offers health insurance to people who don't have coverage on the job. More than 8 in 10 of those who apply qualify for help. Without it, most can't afford the coverage.
The IRS handles income verification for the HealthCare.gov website. In a statement, Hill said the problem was due to issues with "external verification sources."
The glitch seemed to affect people with new applications. People who previously submitted their income details -- but hadn't completed the final step of picking a plan -- were still able to do so.
The technical problems tied up some consumers who'd come out Saturday to an enrollment event in the central Illinois city of Jacksonville.
"They were frustrated, but they were nice about it," said Miranda Clark, who was helping people sign up. "They can come back tomorrow or call...or log back into their account and do it on their own."
The official sign-up deadline in the 37 states served by HealthCare.gov is 2:59 a.m. Eastern time Monday.
"If a consumer was unable to submit an application because their income could not be verified due to this or had any other technical issue that prevents enrollment before the deadline, we plan to provide them with a special enrollment period," Hill said. "Additional information will be provided to those consumers in the coming days."
Last year, HealthCare.gov stumbled at the start. Numerous technical problems with the website were a huge headache for consumers, and an embarrassment for the tech-savvy White House. This year, the process had worked fairly smoothly.
The administration has set a goal of 9.1 million people signed up and paying their premiums in 2015.