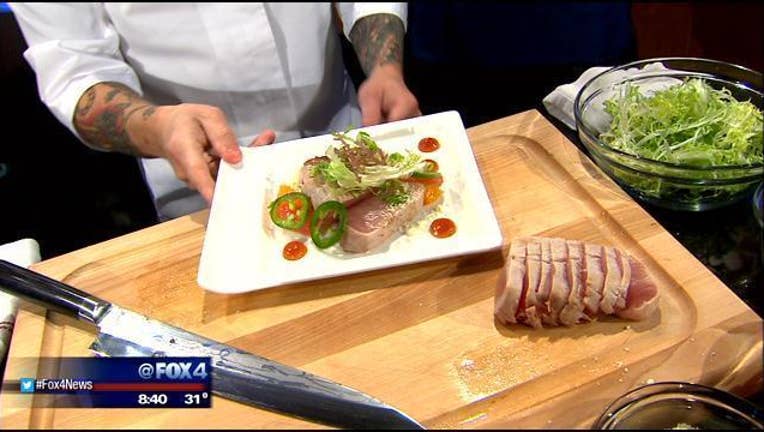 article
Ingredients
3 oz. Hamachi
5 ea. Frisée
5 ea. Jalapeño slices
4 ea. . Ogo (edible seaweed)
2 tsp. Ponzu gel (store-bought)
1 ea. Grapefruit segments (cut in thirds)
1.5 ea. Orange segments (cut in thirds)
1 tsp Jalapeño powder (store-bought)
Optional Salt and pepper

Preparation
1. Heat a small sauté pan on medium high heat. Add a small amount of oil to the pan once it is hot. Salt and pepper Hamachi and sear all four sides for about 15 seconds each side. Let the Hamachi cool for about two to three minutes and then slice into 5 pieces.
2. Cut off the stem edges of both the orange and grapefruit. Cut down the skin from one end to the other. Be sure to remove all of the skin and white pith from the flesh. Once all flesh is exposed, cut the orange and grapefruit into segments following the white lines of the membrane. Cut the segments into thirds and set aside for later.
3. Slice jalapeño into 5 slices.
4. Wash frisée and ogo (same as you'd wash lettuce) if they aren't already clean.

Plating

1. Add 7 dots of Ponzu gel in the middle of the plate, dragging diagonally
2. Slice the Hamachi and lay across on top of the ponzu gel in the middle of the plate
3. Garnish with the frisée
4. Place the ogo and jalapeño around the Hamachi
5. Finish with the jalapeño powder