Greater Dallas Veterans Day Parade canceled because of the weather
DALLAS - United States veterans are being honored across the country Friday for Veterans Day. In North Texas, the Greater Dallas Veterans Day Parade that was set to honor the men and women who have protected our freedom was canceled at the last minute
The patriotic procession was called off because of the rainy weather. The city of Fort Worth made some adjustments too.
This was supposed to be the triumphant return of the Greater Dallas Veteran's Day Parade, which has not been held since 2019 due to the pandemic.
City streets, which were meant to be filled with nearly 30 marching units of junior ROTC cadets, 11 high school marching bands, floats, and equestrian units, were empty due to heavy rain.
Inside Dallas City Hall, organizers did their best to put on a condensed version of ceremony.
It included some of the traditional pomp and circumstance.
Eight young men and women who represent all branches of the military were sworn into service.
Medal of Honor recipient, Command Sergeant Major Gary Litrell, took a moment to joke about the weather, as well as offer advice to the next generation.
"I consider Dallas my second home. I live in Florida, where we don't get rained out on parades," he said. "I asked students to look in the mirror and ask themselves who am I? Am I a person of character."
Some servicemen and women who were being saluted this year were honored at a special breakfast Friday morning. That includes 95-year-old Keith Rudy, who served in the U.S. Navy during World War II.
Just like other vets, Rudy thinks about the friends who fell in battle and the meaning of their sacrifice.
RELATED: Veterans Day 2022 deals, discounts and freebies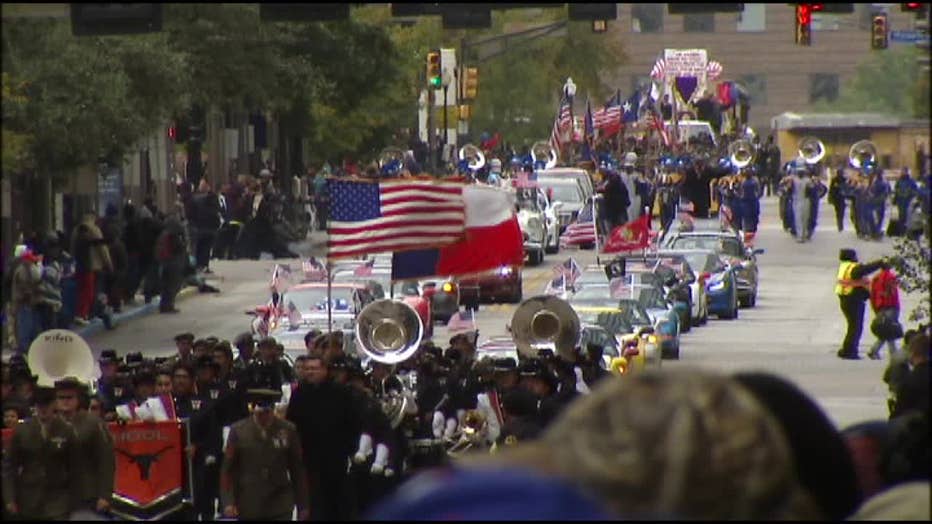 "The most important thing is the ones that didn't come back. I had an older brother seven years older in the Army. He was a combat veteran in Europe. He was wounded and he came back. A lot of them didn't, and they were the real heroes," he said.
Rudy said he's a big supporter of Veterans Day. But he thinks it's not just to honor those who served. It's also about giving younger generations a better understanding of what was required to make the U.S. the free, prosperous, and exceptional country that it is today, he said.
RELATED: 'Make Camo Your Cause' campaign works to end veteran homelessness — how you can help
The parade was supposed to start at Union Station Downtown and proceed along Main Street, ending at Dallas City Hall.
That's where a wreath-laying ceremony would have happened, followed by a missing man military flyover and comments from some distinguished guests.
Across town in Fort Worth, the Tarrant County Veteran's Day Parade still went on.
Folks bundled up and gathered under an overpass to pay their respects.
"They serve our country, rain or shine, so we want to be here to support them," Jeremy Berg said.
Fort Worth ISD did pull its marching band from the parade due to the inclement weather, but many participants still marched on.
Veterans in attendance were grateful for those who braved the elements to support them.
"We have brothers and sisters out there right now who are in worse weather then we're in right now, so it's important for me and my brothers and sisters to be here and support them," Navy veteran Jessica McMillion said.