Gov. Abbott uses televised address to target border, crime in State of the State address
AUSTIN, Texas - Gov. Greg Abbott offered no hints about whether he might run for president in a rare primetime address Thursday night but used it to make a case that hard-line immigration measures, tougher criminal penalties and a humming economy are a model for the rest of the U.S. 
"We will ensure Texas remains the leader of this nation as an unflinching force in this world," Abbott said during his biennial State of the State, which was broadcast across Texas.
The speech drew applause from inside a Texas factory that Abbott chose as the backdrop to lay out his third-term agenda, but some audiences elsewhere were not as enthusiastic.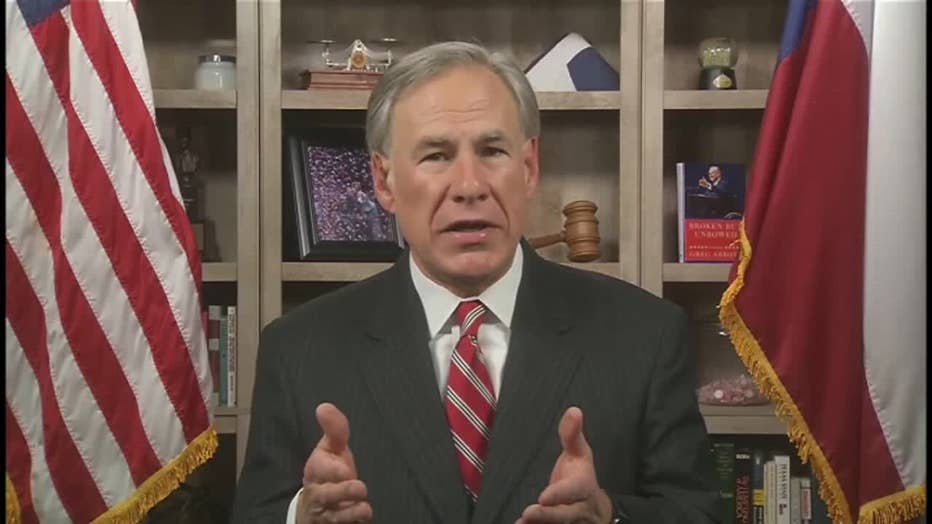 He made no mention of last year's Uvalde school shooting that killed 19 children and two teachers during the half-hour address - which was immediately followed on Texas airwaves by parents of slain Robb Elementary students criticizing him for not supporting tougher gun laws.
Although Abbott used the speech to name school safety a priority for Texas lawmakers to tackle over the next three months, he did not lay out any specific proposals and reiterated a general opposition to new restrictions on firearms.
The speech came a day after gunfire at an El Paso mall left one person dead and three others injured, a shooting that took place across a large parking lot from the Walmart where 23 people were killed in a racist attack in 2019.
"Some want more gun laws," Abbott said. He then accused "too many local officials" of not enforcing existing gun laws, but did not provide any examples. 
For most governors, the State of the State rarely strays from pomp and tradition, serving as part highlight reel of past achievements and part unveiling of new priorities. Most are delivered in state capitols to an audience of newly elected legislators - as formerly was the case in Texas. 
But Abbott has not only reimagined them as made-for-TV, but taken the show on the road. His speech Thursday was broadcast from a manufacturing plant in San Marcos, along the booming corridor between Austin and San Antonio that has become a sprawling symbol of Texas' turbocharged growth the last two decades. 
Reporters were not granted access to the speech. Nearby, immigrant rights advocates organized a small protest over Abbott's hard-line measures on the U.S.-Mexico border.
Texas Democrats, who two years ago staged a dramatic 38-day walkout in the state House to temporarily stall a GOP package of new voting restrictions, remain heavily outnumbered in the state Capitol and have little ability to block Abbott's agenda. 
They used their 10 minutes of airtime after Abbott's speech to broadcast recorded messages from several Uvalde parents who have been persistent critics of the governor since the shooting last May. 
"We're once again begging Gov. Abbott, please, listen to these voices," said Democratic state Sen. Roland Gutierrez, whose district includes Uvalde. "It's too late for these families. But maybe, if you show some political courage, you can save the next family from having to endure this kind of heartache." 
Abbott is starting a record-setting third term in which his grip on Texas has seldom appeared tighter. He called on lawmakers to deliver another $4 billion in border security spending, mandatory 10-year sentences for migrant trafficking convictions and an end to all pandemic-era restrictions in Texas. 
Abbott, 65, has mostly deflected questions about whether he will run for president like his two predecessors in Texas - former governors Rick Perry and George W. Bush - but he hasn't ruled it out. 
Dave Carney, Abbott's chief political strategist, said the governor will survey the field of Republican presidential contenders once the Texas Legislature adjourns in May. Abbott will then decide if the race would benefit from his experience in Texas, said Carney, who was also a strategist to Perry's presidential campaign in 2012. 
Nikki Haley, the former South Carolina governor and U.N. ambassador, launched a run for president this week to become the first major GOP challenger to former President Donald Trump. 
"If he doesn't think that there's a need for his running, he won't," Carney said of Abbott. "He's not this blindly ambitious guy who has to run for the very next thing all the time."