GoDaddy's 'puppy' Super Bowl ad goes over horribly, gets pulled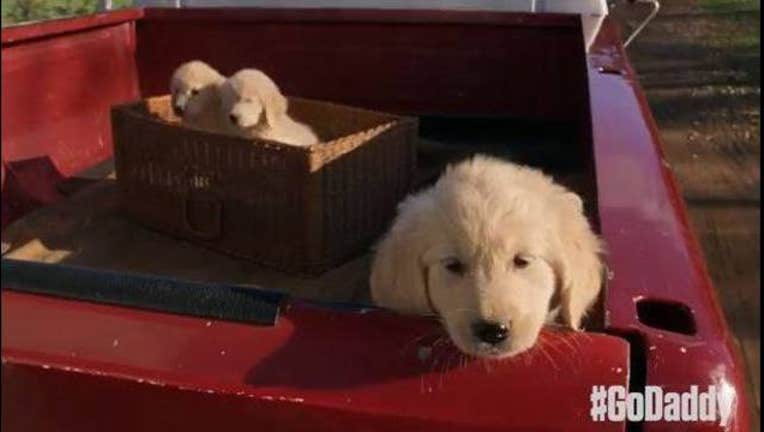 By FOX Sports

A Super Bowl ad designed to be cute and fuzzy ended up generating a wave of criticism just hours after being shared online, and now it's been pulled from the big game.
Website hosting company GoDaddy posted the ad "Journey Home" online Tuesday, only to be barraged with negative feedback on social media from animal shelter workers and animal rights activists. The ad has since been pulled from YouTube after reportedly generating more than 800 mostly negative comments.
The 30-second ad featured a yellow lab puppy on a long journey to find its way home after falling out of a truck, only to discover that its owner used GoDaddy to create a website to quickly sell the dog to a new owner. The ad was designed to satirize Budweiser's "Lost Dog" ad, a follow-up to the last year's popular Budweiser ad, "Puppy Love."
The net result? We are pulling the ad from the Super Bowl. You'll still see us in the Big Game this year, and we hope it makes you laugh.
Finally, rest assured, Buddy came to us from a reputable and loving breeder in California. He's now part of the GoDaddy family as our Chief Companion Officer and he lives permanently with one of our longtime employees.
But the ad generated criticism from those in the animal rescue community, who said many dogs purchased online come from "puppy mills," or large-scale breeding operations.
Animal rights advocate Helena Yurcho launched a Change.org petition for GoDaddy to pull the ad, which had about 42,000 signatures by Tuesday afternoon.
"Essentially, GoDaddy is encouraging private breeding/puppy mills while shelter animals wait patiently for their forever homes or worse —?? to be euthanized," she wrote. "They are also encouraging purchasing an animal online; the animal could be sold to someone who runs a fighting ring, someone who abuses animals, or to someone who cannot adequately care for the animal. Animal rights are no laughing matter and to portray them as such is cruel and irresponsible."
GoDaddy CEO Blake Irving responded to the ad's critics on Twitter, vowing "we will not air it."
GoDaddy also posted this message to their main website Tuesday after, titled "We're Listening, Message Received":
This morning we previewed GoDaddy's Super Bowl spot on a popular talk show, and shortly after a controversy started to swirl about Buddy, our puppy, being sold online. The responses were emotional and direct. Many people urged us not to run the ad.
We've made a tremendous amount of progress over the past two years, advancing the GoDaddy brand as a company that cares a great deal about small business and is in their corner to help them succeed. People increasingly know who we are, what we do and who we do it for. At the end of the day, our purpose at GoDaddy is to help small businesses around the world build a successful online presence. We hoped our ad would increase awareness of that cause. However, we underestimated the emotional response. And we heard that loud and clear.