Giant catfish caught in Grapevine Lake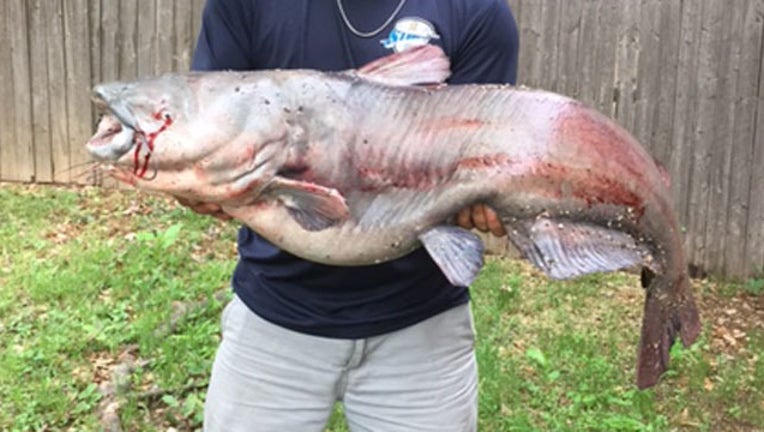 A North Texas man and his father reeled in three huge catfish on Lake Grapevine last week. The largest was so big their scale couldn't measure it.
Jennifer Robles said her husband, Rickey, and father-in-law, Rick, caught a total of four fish while out on the water Friday. They caught the three big ones all within a 45-minute span.
"In all the years they had been fishing at Lake Grapevine, they've never caught a catfish as large as the biggest catfish they caught that day, especially in such a sport amount of time," she said.
The men were using a shad bait on a 15 pound line. They were actually worried it would snap because the fish weighed well over the limit of the line.
The smaller two weighed 34 and 36 pounds. The largest maxed out a 40 pound scale. Rickey estimated it was closer to about 50 pounds.
"They had to pack up as soon as they caught that third largest blue catfish because they didn't have anymore room in their boat for fish," Jennifer said. "I'm not sure if it's the largest catfish ever caught in Lake Grapevine, but it sure was the biggest they had ever caught there."
According to the Texas Parks and Wildlife Department, the largest blue catfish ever pulled out of Lake Grapevine officially weighed 53.9 pounds.
That's still small compared to the state record. Someone caught a monstrous 121.5 pound blue cat in Lake Texoma in 2004.
So what did the Robles do with 100-plus pounds of catfish?
"We invited both of our families and some friends and we had a huge fresh fish fry. There was so much fish and we still have so much left over. We even gave friends bags of fish to feed their families," Jennifer said.
.
FOX 4 is on YouTube -- http://bit.ly/fox4subscribe