French official: 2 Americans subdued train gunman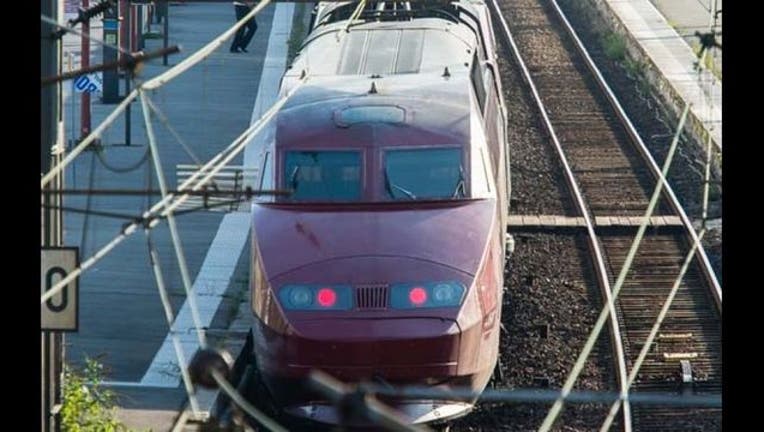 article
PARIS (AP) — A gunman opened fire on a high-speed train traveling from Amsterdam to Paris Friday, wounding two people before being subdued by two American passengers, officials said.
French Interior Minister Bernard Cazeneuve, speaking in Arras in northern France where the suspected was detained, said one of the Americans was hospitalized with serious wounds. Their names were not immediately released.
Philippe Lorthiois, an official with the Alliance police union, said on i-Tele that the two Americans were soldiers.
In Washington, the Pentagon said it "can only confirm that one U.S. military member was injured in the incident. The injury is not life-threatening."
Contrary to early reports, Lorthiois said the attacker did not fire his automatic weapon but wounded one man with a handgun and the other with a blade of some kind.
Investigators from France's special anti-terror police are leading the investigation, a spokeswoman for the Paris prosecutor's office said.
"As always where an act that could be terrorist in nature is involved, the greatest care and the greatest precision will be used," Cazeneuve said.
The suspect is a 26-year-old Moroccan, according to Sliman Hamzi, an official with the police union Alliance, who spoke on French television i-Tele.
Cazeneuve said the two Americans "were particularly courageous and showed great bravery in very difficult circumstances" and that "without their sangfroid we could have been confronted with a terrible drama."
Lorthiois said the gunman shot one victim and injured another with a bladed weapon. A third person, French actor Jean-Hugues Anglade, suffered a minor injury while activating the train's emergency alarm, Lorthiois said.
The attack took place at 1545 GMT while the Thalys train was passing through Belgium, according to a statement from the office President Francois Hollande. Hollande said he's spoken with Belgian Prime Minister Charles Michel and the two leaders pledged to cooperate closely on the investigation.
A young woman said on i-Tele that she was in the carriage next to the one which the gunman struck.
"I wouldn't call it a fusillade, because even in the next wagon we didn't hear any shots," said Margaux, who declined to give her last name. She said passengers remained "relatively calm," and some showed no concern until police boarded the train.
Europe's major rail stations, such as Paris' Gare du Nord and Brussels' Gare du Midi, are patrolled by soldiers armed with rifles, but passengers can board most high-speed trains without passing through metal detectors or having their bags searched.
One exception is the Eurostar between Paris and London. Passengers on those trains must pass through a metal detector and have their bags scanned as well.
Thalys is owned by the French and Belgian railways and operates high-speed trains serving Paris, Brussels, Amsterdam and Cologne, Germany.
French authorities have been on heightened alert since Islamic extremist attacks in January left 20 people dead, including the three attackers.
___
Lolita C. Baldor in Washington contributed to this report.