Innocent Fort Worth driver killed as suspect flees police
FORT WORTH, Texas - An innocent Fort Worth woman is dead after police say a driver trying to flee from a traffic stop crashed into her.
Euless police released dashcam video from Tuesday night showing their officers following the suspects' car.
Police say they tried to pull over two men, but they drove off and ran a red light at the intersection of Trinity Boulevard and Euless South Main Street in Fort Worth. 
The victim they hit was a woman in her 20s and died at the scene.
With lights and sirens on, the Euless officer tried to pull over the black Ford Focus. The department says he observed its front and back license plates were not the same. One did not belong on the car, and the other was expired. However, just seconds later, the officer abandoned the pursuit.
"After a few moments, it appeared the vehicle was speeding up," explained Euless Police Capt. Brenda Alvarado. "And the officer knew he only had traffic violations, so he made a decision not to continue."
The dashcam video shows the moment the officer disengaged and pulled back. The Ford Focus kept traveling at a high rate of speed.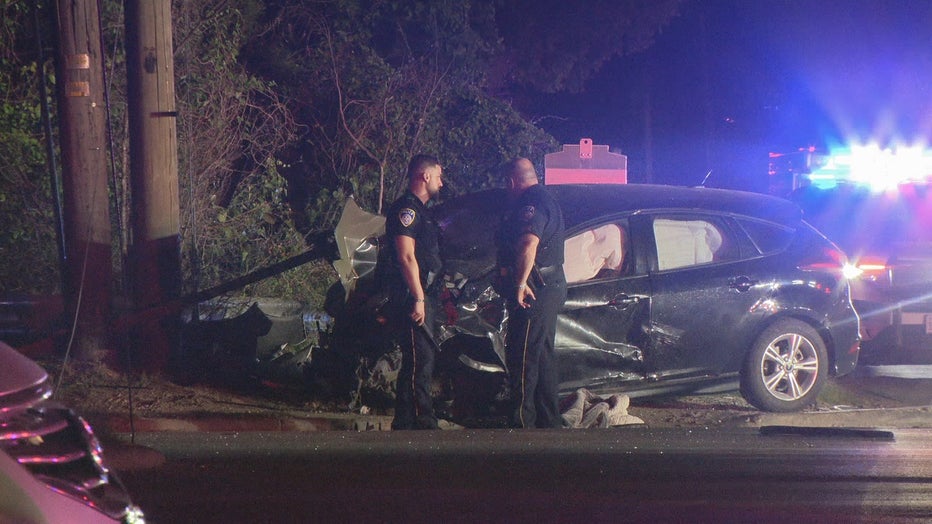 The officer's camera recorded a large flash when the driver hit a transformer and also struck a 27-year-old woman in another vehicle. She was killed upon impact.
One of her relatives tells FOX 4 that she was a bright, young woman who had just completed a doctorate degree in occupational therapy. 
"It's an extremely tragic incident that this driver's action has cost someone else their life," Alvarado said.
Police say the criminal driver got out and tried to run. He was quickly captured. A passenger in that vehicle who was trapped inside is also in custody. 
The location of the crash happened in Fort Worth, which means Fort Worth PD is handling the main investigation.