Fort Worth Police: Cat tortured at cemetery as part of ritual sacrifice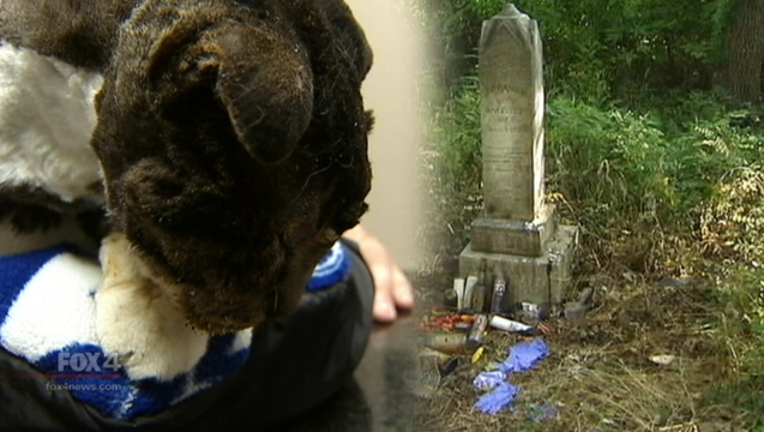 article
FORT WORTH, Texas - Fort Worth police are trying to find out who tortured a cat at a cemetery possibly as part of a ritual sacrifice.
'Po' the cat is fighting for his life as he recovers from stab wounds and severe burns. Police are looking fingerprints and DNA evidence to catch the people who did this.
Po was found stabbed and burned at a Fort Worth cemetery on Sunday. He was in bad shape when he was brought to Animal Hope in Fort Worth, an organization that cares for injured and abused animals.
"They just got him to eat," said Benjamin Morris with Animal Hope. "So I mean that's a good sign. He's purring."
The cat was found by Fort Worth police and firefighters on Sunday. The officer's body camera captured the discovery. He was lying next to a headstone at Harrison Cemetery off of Meadowbrook.
Detectives believe the cat may have been used in some sort of witchcraft ceremony, possibly a 'Santa Muerte' ritual sacrifice. Candles, a crucifix, peppers and other items were still around the grave site.
At some point, the cat was burned. Investigators responded to the scene after a nearby resident reported a grass fire.
"He's got some stab wounds it's up near the clavicles and he's burned all over his body," explained Morris.
Animal cruelty detectives are analyzing items at the crime scene for fingerprints and even DNA and hope someone from the public will call in a tip that will catch whoever did this.
The director of Animal would also like to know who could be this cruel.
"The person that did this, I'd love for them to come down here," said Morris. "I'd like to talk to them. I'd like to show 'em around. I'd like to show 'em some of our residents, you know. I think it'd be good for them."