Fort Worth nurse helps fulfill terminally-ill patient's bucket list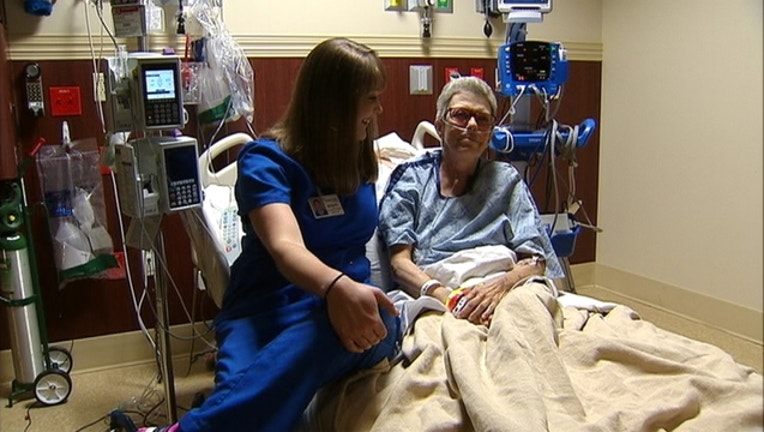 article
One Fort Worth nurse truly went above her job description when she helped her terminally-ill cancer patient fulfill one of her last wishes --- a delicious lobster meal.
Monica Bratten did not know she was living with bone cancer when she had severe pain in her feet.
"I thought I'd bought the wrong kind of tennis shoes," she said.
But after she fractured a bone in her neck, a doctor eventually gave Bratten an x-ray and discovered she had stage 4 bone cancer.
"I'm going to die pretty soon, pretty quick," Bratten said. "It could be today."
She went to the Medical Center Alliance in Fort Worth to be treated. At 62 years old, she thought she had a lot of time ahead. Yet, she remains positive.
"I'm going home," she said. "I'm getting the hell out of here."
Bratten can't help thinking about the things she won't get to do.         
"I realized I'm not going to get to see my grandson go to his first day of school," she said. "I was counting on doing all those stupid things like grandma does."
That's when she and her nurse, Bethany Freeze, started talking about her bucket list.
"She said, 'You know I was thinking about what I'd do if it was my last day on earth.' She said, 'I think I would just gorge just gorge all day,'" explained Freeze. "And I said, 'What would you eat?' And she said, 'I would eat lobster.'"
"I said I would want to eat lobster and butter sauce," Bratten said.
On her day off, Freeze kept thinking about her patient's dream.
"I thought about what I would do on my last day," Freeze said. "And I thought she shouldn't have to wait for her last day."
Freeze decided to make Bratten's dream a reality. When the manager at Pappadeaux heard about why she was buying such a meal, he decided to comp the bill and add to it.
"I got big tears in my eyes and I could not stop crying," said Bratten.
The meal turned out to be just what the doctor ordered.