Fort Worth extends its public health emergency declaration until April 7
FORT WORTH, Texas - Fort Worth has approved an extension to its public health emergency declaration.
The order will now be in place until April 7. There was some confusion over when the approved end date was. The city attorney sent out a note to council with clarification.
"Originally the end date was May 15th. By the adoption of the Resolution today the end date is now April 7th. We expect that you will need to extend the date at your April 7th Council meeting," the city attorney wrote.
RELATED: Coronavirus coverage
Mayor Betsy Price was in the city council chamber, while council members voted virtually from their homes.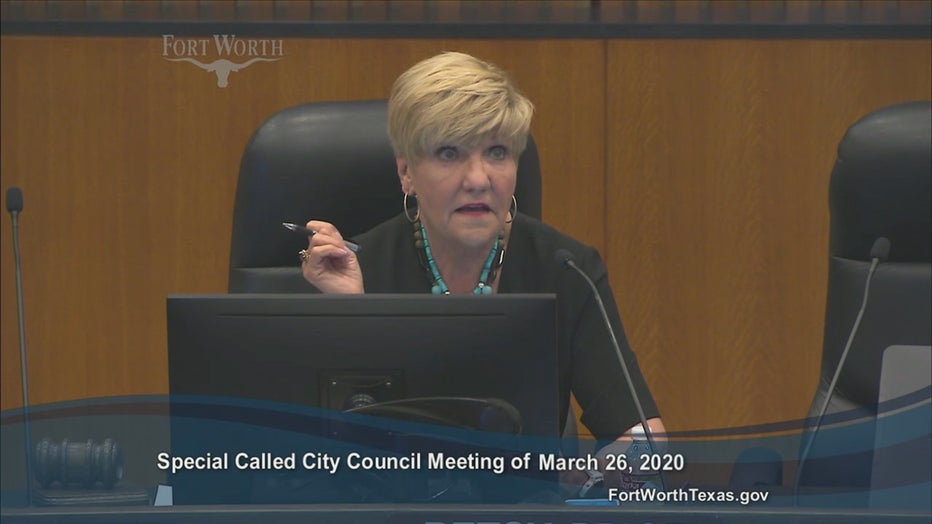 Tarrant County's stay-at-home order also expires in that time frame, but that could change.
Fort Worth native Gabriel Guess called in to tell the mayor and the council that he thinks the stay-at-home order is overkill.
"Why are we going to limit activity in Fort Worth when this virus has a high recovery rate? I want to be able to go play golf. I want to be able to do things with my family that I need to do and want to do. We must be careful in giving up our liberties and things that are given to us in the constitution," he said.
Mayor Price responded with the toll COVID-19 is taking on the healthcare system and Tarrant County's just over 5,000 hospital beds.
"Under even conservative estimates, if we don't flatten this curve, hospitalizations could easily hit 12,000. That's why we've tightened the restrictions with the stay-at-home order," she said.
Police Chief Ed Kraus said there are no road blocks or checkpoints to screen for violations of the city's stay-at-home order, as rumors suggest.
It is completely acceptable to go outside and exercise, as long as social distancing is practiced with members outside your household.
Krause reminded people that social gathering with others is not allowed, and officers will start with warnings.
"If that doesn't work, we are prepared to cite individuals or even make arrests in certain situations. We have not had to do that. Hopefully, we will not, but we have a plan in place for doing that if we need to," he said.
The Fort Worth Fire Department, amid all of the evolving information and challenging times, is sending its recruit class to help senior citizens in the early hours of each day at grocery stores.
"They have been in the stores, helping with everything from bagging groceries to helping them in and out of their car and we're finding that if nothing else, they just want somebody to talk to, so it's been really good," Fort Worth Fire Department Chief Jim Davis said.
RELATED: Fort Worth ISD closes schools indefinitely
Fort Worth ISD has already closed its school indefinitely.
A donation site has been set up in Fort Worth for protective equipment.
The Fort Worth City Library has set up four locations where people can make donations curbside.
They're collecting a list of items including hand sanitizer, surgical masks, caps, shields, and gloves.
These items must be packaged and unopened.
"We have very strict protocols for how we are processing the donations," Manya Shorr, director of the Fort Worth Public Library, "Staff can't touch any of the donations, aside for 72 hours."
Once that 72 hours is up, the items will be wiped down and taken to another location for sorting and distribution.
Items can dropped off at 9 a.m. to 6 p.m. Monday-Friday at these locations:
• East Regional Library, 6301 Bridge St.
• Northwest Branch Library, 6228 Crystal Lake Drive
• Southwest Regional Library, 4001 Library Lane
• Summerglen Branch Library, 4205 Basswood Blvd.