Former President Donald Trump wraps up Conservative Political Action Conference in Dallas Sunday
DALLAS, Texas - Former President Donald Trump was in North Texas Sunday to wrap up the three-day Conservative Political Action Conference in Downtown Dallas.
This is his second trip to the Lone Star State in two weeks after he visited the southern border with Governor Greg Abbott.
Trump spoke for more than an hour, and was the final speaker of the event.
His son, Donald Trump Jr., spoke Friday, along with Lt. Governor Dan Patrick.
On Saturday and Sunday, Abbott's challengers for the Republican nomination spoke at the conference, with former State Senator Don Huffines and outgoing Texas GOP Chair Allen West taking the stage.
RELATED: Conservative Political Action Conference gets underway in Dallas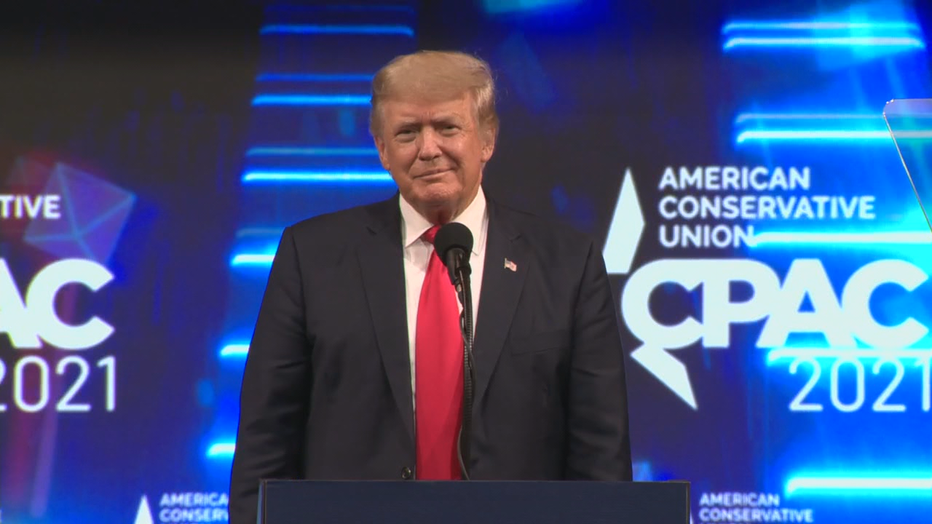 Conservative Republicans are looking to him for endorsements that could, in many ways, chart the party's midterm strategy.
His appearance affirmed his huge influence in the Republican party looking forward to the midterm elections. 
It's still unclear if Trump will run in 2024. He led the straw poll held at CPAC, if he were to run, with 70% of the vote.
The former president touched on the border crisis, criticizing the current administration and praising ICE agents. He called the United States "one big sanctuary city."
Trump thanked his support in Texas, calling on all republicans to take back the House and Senate next year. 
He also spoke about his class action lawsuit against Facebook, Twitter, and YouTube following his ban on all three platforms, which was met with a loud applause.
Trump also criticized increasing crime numbers in the United States and the election, calling it a "laughing stock."
Even though no evidence of widespread election fraud has been found.