Flights delayed at DFW, Love Field due to COVID-19 cleaning at air traffic control center
DALLAS - Hundreds of flights to and from the Dallas area were canceled or delayed Wednesday and Thursday because of COVID-19 protocols.
The Federal Aviation Administration issued a ground stop at the Fort Worth Air Route Traffic Control Center around 3 p.m. Wednesday for "Level 3 COVID Cleaning." That temporarily halted all arrivals and departures at both DFW Airport and Dallas Love Field.
"Many flights are experiencing delays that are expected to continue this afternoon. Customers are encouraged to check their flight's status with their airline," Dallas Love Field tweeted.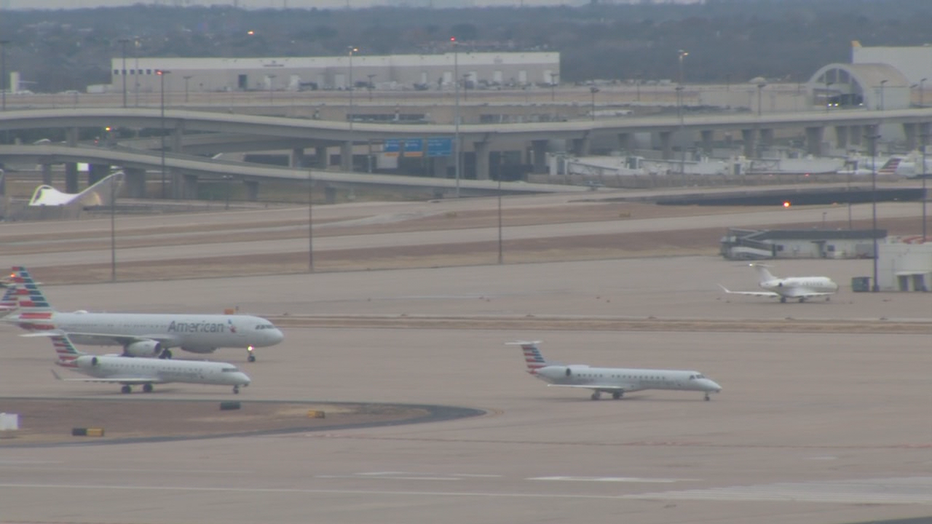 FOX News contributor Shannon Self shared video of a pilot making an announcement about the delays at Houston's Hobby Airport.
"Apparently they're having a little COVID issue. They're doing some cleanup and that is causing a two-hour delay," the pilot told passengers who were headed to Love Field.
Officials said the issue was not at the airports. Instead, two personnel at the regional air traffic control center in Fort Worth have tested positive for COVID-19 in the past three days.
The Fort Worth facility was taken offline to undergo a deep cleaning that lasted about two hours. No flights were allowed to leave or arrive in the Dallas area and some were being diverted during that time.
The ground stop was lifted around 5 p.m. but the airports continued to experience chain-reaction delays and even cancellations through Thursday morning.
FOX 4's Dan Godwin talked to one traveler who was hoping to fly back to Ohaha from DFW Airport. He ended up at Love Field in the morning still trying to get home to Nebraska. 
"I ended up taking an Uber from DFW, staying here overnight and unfortunately I had to cancel work today. Had to call my boss and take an extra day off work. Kinda the biggest consequence right now," Rob Norrie said.
"By the time we got here we were waiting for our pilot. We were waiting for other guests for flights that were late and then we were waiting for luggage, which I would assume was one of my luggage and my luggage didn't even make it," said Apryl Vond, who lives in San Diego, California.
According to the website FlightAware.com, Love Field had four flight delays Thursday morning and one cancelation. DFW Airport had 55 canceled flights and 33 delays Thursday morning.
Anyone heading to the airport is still encouraged to check their flight status before arriving.