El Centro College officer hurt in shootout with gunman
DALLAS - An El Centro College police officer was hurt in a shootout with a gunman Thursday evening.
The shooting happened near the 7-Eleven in the West End area of Downtown Dallas around 6:30 p.m.
A Dallas College El Centro Officer and a suspect were engaged in a disturbance regarding a vehicle, according to Dallas PD.
Police say the suspect had an outstanding warrant related to a probation violation and a struggled ensued when multiple officers tried to arrest him.
Shots were exchanged between both the suspect and the one officer, and both were hit and transported to area hospitals.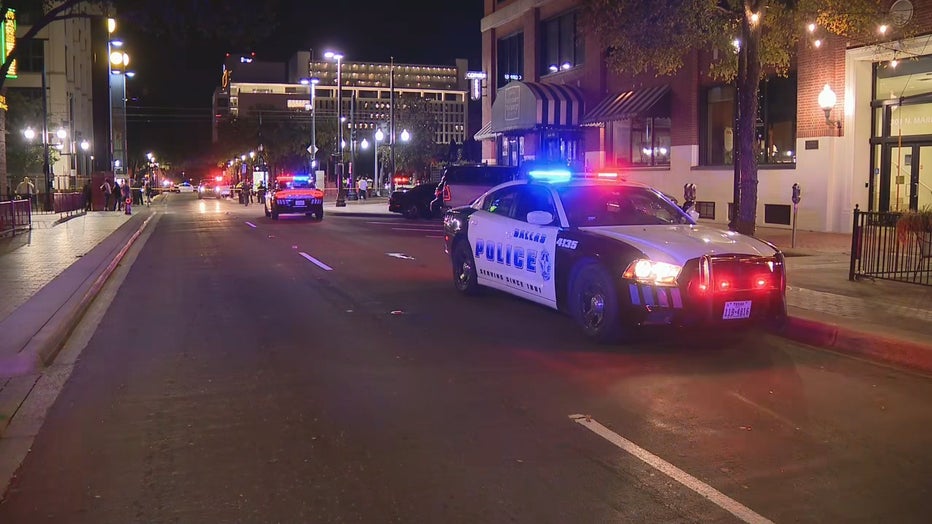 Dallas PD says the officer was wearing a body camera, but they do not know at this time who shot first. They only said that a struggle went down and both fired.
The officer is said to be doing "good," according to the vice president of the Dallas Police Association.
A witness said he heard the series of shots fired around 6:30 p.m. He says it sounded like two guns were going off at the same time. Two additional witnesses say that after the shots were fired they saw a man running toward the DART tracks in Downtown who then fell to the ground.
Police say the weapon that was involved was recovered.
FOX 4 saw three people handcuffed, placed in the back of patrol cars and taken away, but police have not said what sort of relationship they might have to the shooting.
Dallas College says it was a male officer, and he and another officer on now on paid leave. It also says two additional officer were in some way related to the investigation surrounding a vehicle.
The suspect is in critical condition.