DFW Airport heavily impacted as American Airlines cancels nearly 2,000 flights
DALLAS - Hundreds of thousands of American Airlines passengers were stuck after the airline cancelled about 2,000 flights across the country this weekend.
About half of those cancellations happened Sunday.
DFW Airport saw more of those cancellations than any other airport.
"This is totally a disgrace. They're not helping us," traveler Anna Nantze said.
Roughly 35% of American Airlines' flights were cancelled Sunday, as part of a growing list of cancellations since Friday.
Some DFW passengers have spent most of their weekend at the airport.
"We had a whole bunch of people, young little kids running around, people in wheelchairs, seniors," Nantze said.
Some still don't know when they'll take off to their destination.
"We won't know for sure until the wheels come up," traveler Ken Harrington said.
American Airlines COO David Seymour issued a statement Saturday that severe winds in North Texas Thursday resulted in a number of cancellations.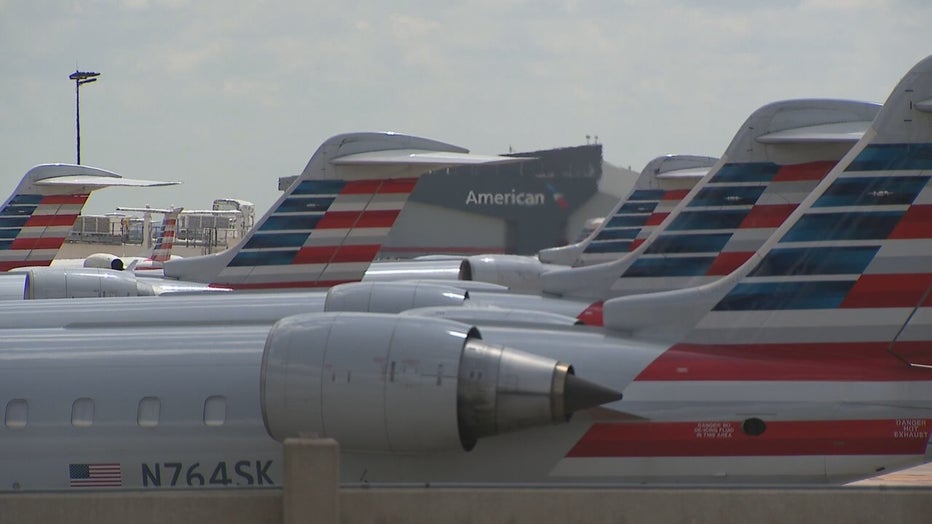 RELATED: American Airlines cancels hundreds of flights ahead of Halloween
Now, it's playing catch up, and he added staffing is tight.
"You know, we see management has blamed the weather and the calendar, saying it's the end of the month, and we've had some weather and crews are maxed out on time," said Dennis Tajer, with Allied Pilots Association.
The Allied Pilots Association, which represents American Airlines pilots, said the company isn't tackling preventable logistical issues.
"This is about blocking and tackling. Management is not getting it done," Tajer said. "Sure, weather happens, but after it happens, the sign of a strong airline is how well you recover, and [Sunday], management is just showing they don't have the fundamentals down."
The pilot's association said it's a bad sign as we approach the holiday season.
"That's their job is to take care of passengers and our passengers are paying for this," Tajer added.
Some are stuck while trying to vacation.
"We found out the flight was cancelled again and all the flights are cancelled to New York," traveler Juliana Siqueira said.
While some travelers have emergencies. Locio Gonzalez is trying to get to Mexico to mourn the loss of her grandmother.
"You know, some of us are going for very special occasions," she said.
"There's a lack of care and concern for the traveling public," traveler Pierre Dubois said.
Regardless of the reason for travel, thousands of American Airlines customers are fed up.
"They're not helping us and I don't appreciate this this from a billion dollar company, treating us like this," Nantze said. "We're the customer and they need to understand that and I'm sick and tired of it."