'Depressed' dog stares at wall after he's returned to kennel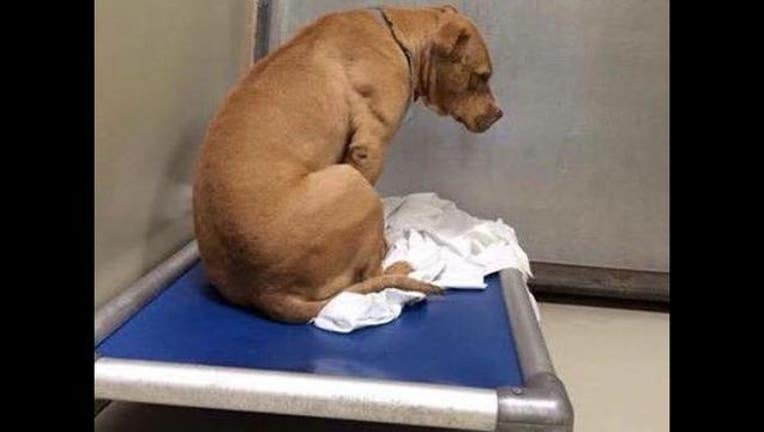 article
PHILADELPHIA (KTVU) - An image of a melancholy rescue dog, who spent hours hunched over and facing a kennel wall has gone viral, and ultimately helped raise hundreds of dollars to help find him a home. 
March, a Pit Bull mix fell into a deep depression, after hopes of leaving his kennel were dashed, according to the ACCT Philly shelter.
Animal care officials there tell KTVU Fox 2 a volunteer began the process of transporting the dog to a rescue facility, only to turn around and return him to ACCT because of a miscommunication.
When shelter officials put March back in this kennel, the dog immediately exhibited signs of depression: He placed himself facing a gray wall and stayed that way for a while.
March is described as being typically a "really sweet, happy, friendly" dog, that loves to snuggle, according to ACCT spokeswoman Ame Dorminy.   
An animal control officer brought the stray in after he was found on a back porch of an alley. He adjusted well to the shelter when he first arrived in early March.
But after his return to the kennel, he seemed sad and depressed and then caught a cold which added to his lethargy, according to officials. 
Dorminy says in recent weeks, the dog has started bouncing back to his usual self.
On Monday ACCT shelter said it was getting ready to have March sent to a no-kill rescue facility, where officials hope he will be rescued and adopted into a new home.
A fund has been set up by people who want to help March get placed in a home.
At last check almost $1,000 was raised. 
ACCT Philly is contracted by the city of Philadelphia for animal control services.
Because of its high animal intake, it is not a "no-kill" facility.
Dorminy says she hopes March's story and the funds raised will help rescue animals be placed in loving homes.