Dem senator frustrated by inaction on guns begins filibuster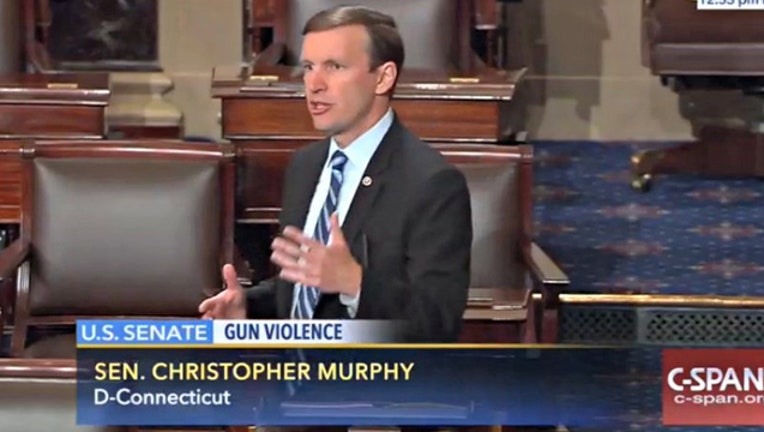 WASHINGTON (AP) — A Democratic senator on Wednesday launched a filibuster to force a vote on gun control legislation three days after 49 people were killed at a nightclub in Orlando, Florida, in the worst mass shooting in modern U.S. history.
Connecticut Sen. Chris Murphy said he would remain on the Senate floor "until we get some signal, some sign that we can come together," as he also evoked the Newton school shooting in his state in 2012. His plea came as presumptive Republican presidential candidate Donald Trump was meeting with the National Rifle Association about the terror watch list and gun purchases.
"For those of us that represent Connecticut, the failure of this body to do anything, anything at all in the face of that continued slaughter isn't just painful to us, it's unconscionable," Murphy said.
Twenty children and six educators died in the shooting at Sandy Hook Elementary School on Dec. 14, 2012. Murphy said he cannot look into the eyes of those children's relatives and tell them that Congress has done nothing since.
The election-year fight over gun control pits strong proponents of the 2nd Amendment right to bear arms against lawmakers arguing for greater restrictions on the ability to obtain weapons. Since the Sunday morning shooting in Orlando, Democrats have revived their push for legislation.
Murphy is seeking a vote on legislation from Sen. Dianne Feinstein, D-Calif., that would let the government bar sales of guns and explosives to people it suspects of being terrorists. Feinstein offered the amendment in December, a day after an extremist couple killed 14 people in San Bernardino, California, but the Republican-run Senate rejected the proposal on a near party-line vote.
The Orlando shooter was added to a government watch list of individuals known or suspected of being involved in terrorist activities in 2013, when he was investigated for inflammatory statements to co-workers. But he was pulled from that database when that investigation was closed 10 months later.
Murphy also wants a vote to expand background checks.
Joining him on the Senate floor were Sens. Richard Blumenthal, D-Conn., Cory Booker, D-N.J., and Dick Durbin, D-Ill.
Despite the recent shootings, passage of gun control legislation seems unlikely. Some Republican senators have signaled a willingness to negotiate on the issue, but the NRA has opposed any action. The group wields significant power in Congress.