Jerry Jones: 'The right decision was made' to postpone Bills-Bengals game after Damar Hamlin's collapse
DALLAS - Dallas Cowboys owner Jerry Jones said he does not recall ever seeing a situation at a football game like the one in Cincinnati on Monday night, when Bills safety Damar Hamlin collapsed on the field after he suffered a cardiac arrest. 
Following a hit on Bengals receiver Tee Higgins Hamlin fell on the field. He was given CPR on the field and was transported to the University of Cincinnati Medical Center where he is in critical condition.
During an interview Tuesday morning on 105.3 The Fan Jones praised the people involved for their response.
"That care could very well have been a difference maker," he said.
READ MORE: Donations pour into Buffalo Bills Damar Hamlin's toy drive fundraiser
The Bills-Bengals game was postponed until further notice.
"I'm so proud of everyone involved because the only thing that was of interest to anybody was his well-being and his care and the well-being of his teammates and everybody involved," Jones said of the decision to call off the game for the night. "Everyone's immediate care went exactly where it should be, to his care and his family and his teammates."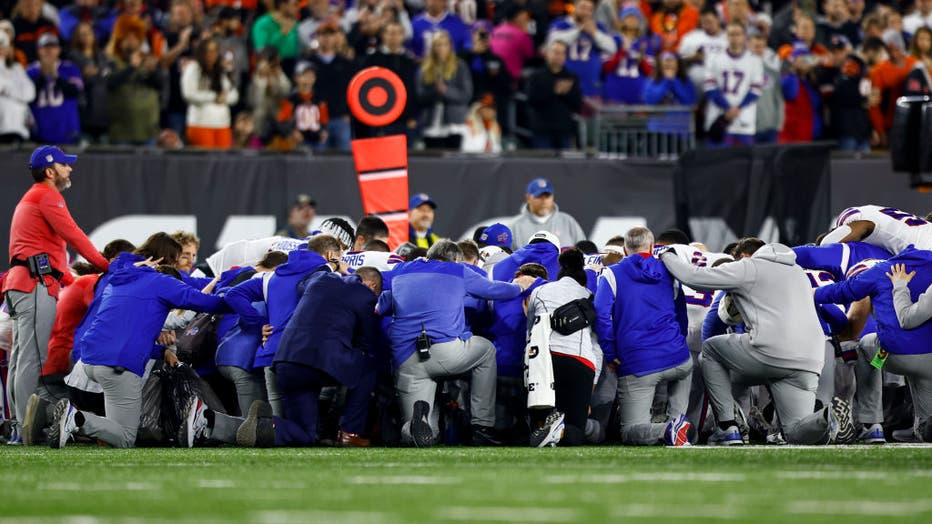 Buffalo Bills players and staff kneel together in solidarity after Damar Hamlin #3 sustained an injury during the first quarter of an NFL football game against the Cincinnati Bengals at Paycor Stadium on Jan. 2, 2023, in Cincinnati, Ohio. (Photo by K
READ MORE: Explainer: What happened to Buffalo Bills safety Damar Hamlin?
Jones told Shan and RJ he doesn't have any information about when the game will be played.
"We haven't had any chance to digest any information as to what was agreed upon regarding that game," Jones said. "Certainly the right decision was made relative to the health and well-being of all the family and certainly Hamlin himself, but all of the right decisions were made regarding the consideration of the family, fans and everyone involved."