Dallas, Tarrant County back-to-school fairs help families with free school supplies
DALLAS - Families in Dallas and Tarrant County are getting ready for school. But first, many will head to back-to-school fairs.
The Dallas Mayor's Back to School Fair kicked off Friday morning in Fair Park. It was the first time it had been fully in-person in two years because of the COVID-19 pandemic. 
People began lining up for the free school supplies and more before 6 a.m., and there was a record turnout.
Dallas Mayor Eric Johnson said inflation has really driven up the price of supplies like everything else and many families are feeling the pinch. 
"I'm a parent. Raising children is expensive. And the price of school supplies, it's higher than they've been in recent history. So, we're glad that we're able to help all these families that are able to come out here today. Those 10,000 school supply packs should help go a long way to make sure our kids don't start the school year off without the supplies they need. So, it's a really great event. It makes you feel good to be able to do it," Mayor Johnson said.
"Times are hard, especially with food costs rising and everything. It's a great appreciation that I have for the city of Dallas for doing this event," said Carla Hunter, a mother of two students who attended the back-to-school event for the first time. "I actually want to try and be a volunteer next year, not just be in line, but be a volunteer on the other side. It's a great feeling."
The families had to be pre-registered, and their children must attend Dallas schools.
The tax-free weekend could also come in handy for people looking to tighten their budgets as inflation soars.
RELATED: Back to School: Texas Tax-Free Weekend Guide
With school doors getting ready to open Monday, there are many back to school giveaways, with supplies going out to students, but also to classrooms and teachers.
There was excitement at Lincoln High School as an army of volunteers made the campus learning ready
"They're doing things like putting up bulletin boards, painting, making some little places for kids, like gathering spaces," explained Susan Hoff, with the United Way
This was part of the United Way's Stock the Schools Project 
"We know that teachers spend an average of $750 out of their own pocket to get ready for school and to provide those supplies for their classrooms and also to fill in the gap for kids," Hoff added.
Volunteers put finishing touches in classrooms.
"Coming from an area similar like this, and then graduating from an historically black college, I think it's important for me to give back to communities like this and, you know, do my part," volunteer Jordan Villafana said.
The hope is not only to give students what they need, but also teachers by lifting some of the financial burden and putting some of those supplies in place to help make learning fun and the school year successful.
"When you have people who give their time to make a difference in our children's lives, that's enough said right there," Lincoln High School Principal Johanna Weaver said. "I could not have asked for a better group, with United Way, I see I have some [Texas Instruments] people here working, volunteering. I have some alumni that went to Lincoln and came back and brought their kids so they could help out. All of this together, it is mind blowing."
An event was held Friday morning at the Tarrant County College South Campus that was expected to help another 10,000 children. 
"We need to educate the whole child and support our families. Events like this allow students to come to school and not worry about not having the necessary supplies and materials," said Fort Worth ISD Superintendent Kent Scribner. "We serve many low-income students who are economically disadvantaged, so events like this really help our families get our kids off on the right track."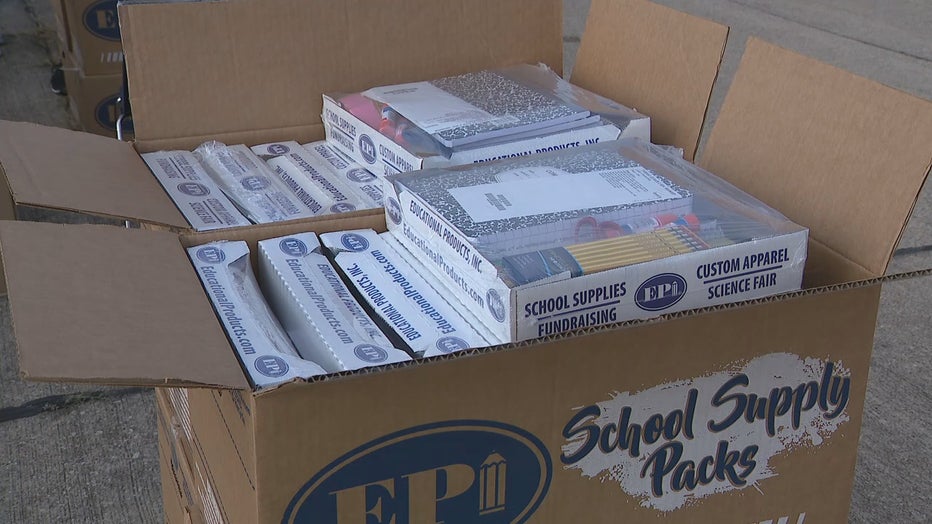 The Tarrant County Back to School Round Up offered free supplies and services like haircuts and physicals. Families also had to pre-register.
"We have a big family, like myself, with four kids. It's expensive, especially with COVID, and things like that are very expensive," parent Andrea Castro said.