Dallas Regional Chamber announces campaign, sweepstakes to get more people vaccinated
DALLAS - The Dallas Regional Chamber is starting a campaign and sweepstakes in order to get more North Texans vaccinated for COVID-19.
The "Taking Care of Business" initiative launched Wednesday and will have social media and billboard advertising, along with a sweepstake prizes that include flights and tickets to Cowboys and FC Dallas games.
The new sweepstakes comes as vaccination rates trail off, with new variants of the virus potentially posing a greater threat.
In recent weeks, state governments and businesses across the U.S. have started dangling prizes, throwing everything they've got at slowing vaccination rates.
With vaccine supply in the U.S. no longer the issue, and doses available in more convenient spots, like pharmacies, local business leaders hope the prospect of a free flight or Cowboys tickets might lure those who've put off getting a vaccine.
"We've decided to launch this campaign right at this critical time as vaccinations begin to slow," said Latosha Herron-Bruff, with the Dallas Regional Chamber.
So far, more than half of Texans over the age of 12 have gotten at least one dose of a COVID-19 vaccine. 
The Dallas Regional Chamber is aiming to push that number to 70% this summer.
Chamber reps say it's a part of getting life and business back to normal as the chamber estimates about one in three North Texas businesses closed during the pandemic. 
The chamber says they're also focused on reaching communities of color that have been disproportionately impacted by COVID-19 with several community outreach events.
"Right now, we're at about 60%, and we want to get to 70% by the end of the summer," Herron-Bruff explained. "That would get us closer to herd immunity, which would mean we would need an additional 600,000 North Texans to get vaccinated. And we feel pretty confident we can get that done."
The sweepstakes will launch later this month and is open to residents in Dallas, Collin, Tarrant, and Denton counties.
"We want to encourage businesses to get back up and running, so we think about our local coffee shop or the local restaurant we love so much, and we know that our vaccinations are the best tool we have to get us to full recovery," Herron-Bruff explained.
The speed at which people have been getting vaccinated has been trending downward.
From a high of an average of 213,000 doses administered daily in April, down to an average of 71,000 daily this month.
Just 36% of Texans are fully vaccinated.
"I think we've made progress, but I do worry that we haven't done enough at this point," former Dallas County Health Department medical director Dr. John Carlo said.
He added that incentives are worth a try.
"I think they can work. I look at it as, let's do everything we possibly can at this point," Dr. Carlo said.
Several state governments have launched massive vaccine incentive programs.
Ohio's Vax-a million program has held drawings for $1 million prizes. State officials claim after a downturn in vaccinations, the rate increased after the program was announced.
California's Vax for the Win program is offering more than $100 million in prizes.
Other states have smaller prizes.
Minnesota is offering Visa gifts, state fair tickets, and state park passes to the first 100,000 people to get a shot before the end of June.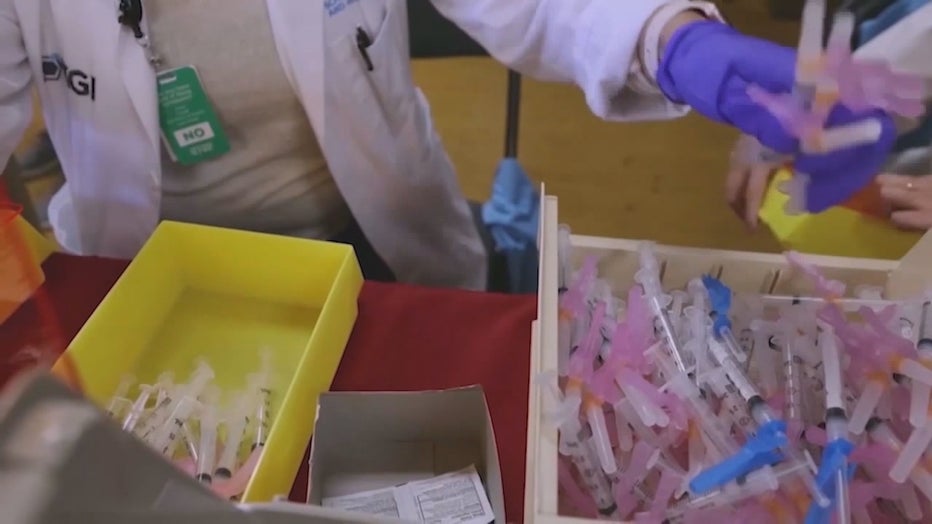 "Without a much higher immunization coverage, we're simply going to not be as protected as we could be," Dr. Carlo explained. "So there's a lot more we need to do, particularly in Dallas, to get our vaccination rates up."
But Carlo noted that as long as some people continue to get vaccinated, it's progress.
"I don't think we're done yet, and I think that's an important piece. So even if we're more slow at getting more immunizations trickling through, I think that is still progress. So while we might not see lines of people, and might not see rates of immunizations every week increasing or even staying the same, every time we can get another immunization done, that's a success," he said.